MELUWIENA
Cooperation between Mexico, Luxembourg, Vienna
Kooperationsprojekt von Mexiko, Luxemburg, Wien
Projet de coopération de Mexique, Luxembourg, Wien
Ein künstlerischer Eingriff in eine bestehende urbane Umgebung, ein symbiotisches Verhältnis zwischen vorhandener städtischer Infrastruktur und der künstlerischen Intervention des mexikanischen Künstlers Julio Orozco stehen für mich stellvertretend für die weitreichende Nutzbarkeit des öffentlichen städtischen Raums.
Kunst jenseits der 'white cubes', der Öffentlichkeit entgegengebracht, den alltäglichen Wegen überlagert, scheint mir ein besonders in Zeiten zunehmender Egomanien und virtueller sozialer Netzwerke ein idealer Ansatz um ein breites Publikum anzusprechen und zeitgleich die bestehenden Strukturen einer Stadt- die ja grundsätzlich allen zugänglich sind, von allen benutzt werden können- zu verwenden und einzubinden. Eine poetisch-künstlerische Idee relativiert den eigentlichen Nutzen der Straßenbeleuchtung und weist auf die mannigfaltigen Möglichkeiten hin, öffentlich-urbane Räume zu bespielen.

Bernhard Rehn, 2015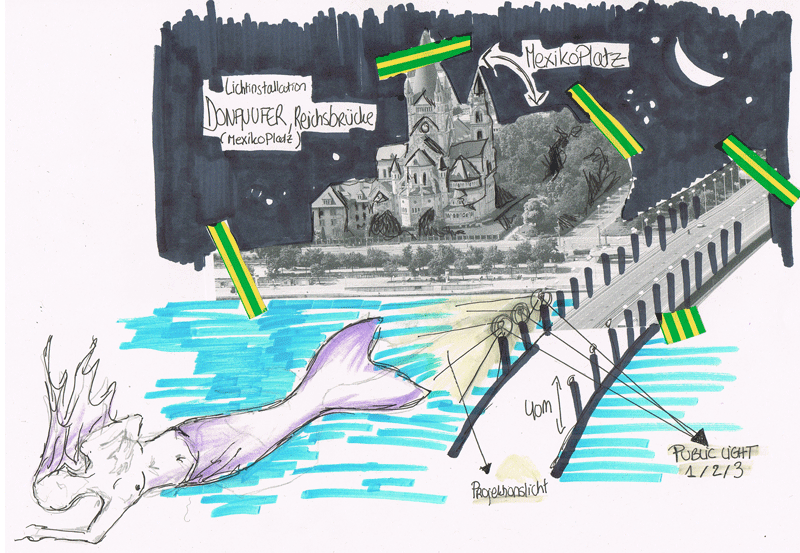 RUMORS & APPARITIONS

Ein ortsspezifisches Gerücht, ein Mythos der Stadt, wird grundsätzlich durch Flugblätter oder Erzählungen
geschürt, um die kollektive Erinnerung zu aktivieren, oder aber auch durch eine künstlerische Intervention.
Leko lampen werden in die Bestehende Beleuchtung der Stadt integriert und illuminieren die Stadt mit Bildern des Mexikanischen Künslters Julio Orozco.
Rumeurs et Apparitions
Un mythe/une rumeur de la Ville est essentiellement attisé(e), par des flyers, un conte, ou par une intervention artisitique dispersés dans l'ensemble de l'espace public afin d'éveiller la mémoire collective et de lancer une légende urbaine. L'oeuvre d'art est intégré dans l'urbanité, en utilisant les réverbères déjà installés. Les médiums principaux sont la lumière et l'eau. Ainsi, les différents lieux peuvent acquérir une nouvelle identité et offrir aux spectateurs une perception des différents lieux nouvelle gräce aux installations lumineuse de l'artiste mexicain Julio Orozco.

ARTIST STATEMENT
The Project MELUWIENA 2015 consists in creating different atmospheres in specific places through spreading out - by word of mouth - rumours about imminent apparitions of unusual/unbelievable incidents in the aim of taking to the extreme the public's visual experience and maximalizing the collective curiosity.
It's about open art!, and open art needs performativ interaction : the open art is the everyday life. Art is not only about the piece of art, but about the collective experience and the social situation.
The artist is limited to provocation; on the other hand rituals takes care of the attendance (audience) and the defamation of art. The flyer/handout is the messenger released on the street, it is an urban agent which
deals with one-armed man's, illiterate person's and Evangelists' need.
There is no joke, no trick. The light and lamps used for the mermaid's representation are like our votive candles lighted at home. The urban candle is a parody of delirium , a twisting of illumintation.
In Every human being, through the roughest examination of the iris scan, the faith is transformed in graphics and in this way the mermaid's representation is send to our eyes produced by our imagination.
The rumour isn't a farce. Miracles happen.
We all are the Meluwiena, when we make it happen.
MELUWIENA 2015 est un projet qui consiste à créer différentes atmosphères à des endroits spécifiques à travers la dispertion de rumeur, par bouche à oreille, à propos d'incroyables et insolites apparitions dans l'espace public. Le but étant d'apporter l'expérience visuelle du spectateur à son paroxysme, mais aussi d'éveiller au maximum la curiosté collective. L'artiste est limitée à la provocation, cependant les rituels contribuent à augmenter l'attention de l'audience et ainsi à démocratiser l'art. L'art ne s'identifie pas seulement à travers l'oeuvre d'art, mais surtout dans l'idée de l'expérience collective et parallèllement dans la situation sociale. Dans le domaine urbain, le tract devient un agent urbain, et s'approprie le rôle de transmisseur d'histoire du présent, et s'adresse à tout groupe-cible possible.
Il n'y a ni piège, ni blague. La lumière et les lampes utilisés pour les projections des sirènes sont similaires à nos bougies votives que nous retrouvons chez nous. La bougie urbaine devient ici une parodie du délire, une duperie construite par les éclairages.

MELUWIENA 2015 ist ein Projekt, das eine bestimmte Atmosphäre an ausgewählten Orten evoziert, um einen fruchtbaren Boden für einen Stadt Mythos zu schaffen. Die Verbreitung des Gerücht über eine bevorstehende Erscheinung oder einen unglaublichen Vorfall im öffentlichen Raum, soll das Ziel haben, eine extrem visuelle Öffentlichkeit zu erzeugen und die kollektive Neugier der Bewohnern der Stadt zu maximieren.
Der Künstler ist in der Provokation eingeschränkt, auf der anderen Seite tragen Rituale dazu bei, die Aufmerksamkeit des Auditoriums zu erhöhen und die Kunst zu entehren.
Das Flugblatt ist im städtischen Bereich, der Geschichtentransporter von heute, wie ein Agent, der geschäftlich sowohl mit dem einarmigen Mann, wie auch dem Analphabeten und dem Evangelisten, mit allen seinen Bedürfnissen, verkehrt.
Es ist kein Witz und auch kein Trick. Die Lichter und Lampen die für die Nixen Installation verwendet werden, entsprechen den Votivkerzen in unseren Häusern. Die städtische Kerze ist eine Parodie eines Deliriums, eine Täuschung von Beleuchtung. Wie durch die härteste Prüfung eines Iris-Scan, wird der Glaube in Grafiken umgewandelt und erzeugt, durch unsere Vorstellungskraft, Erscheinung der Donaujungfrau.
Das Gerücht ist keine Farce. Wunder passieren. Wir alle sind Meluwiena, wenn wir es zulassen.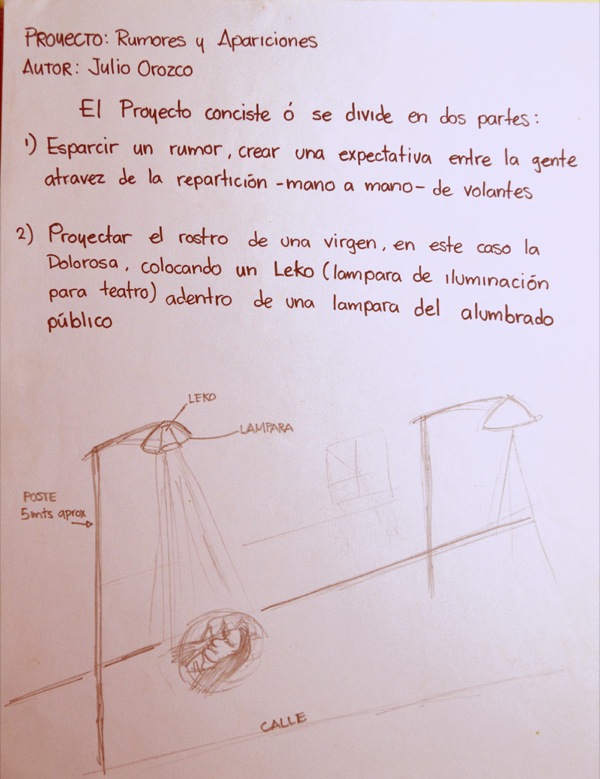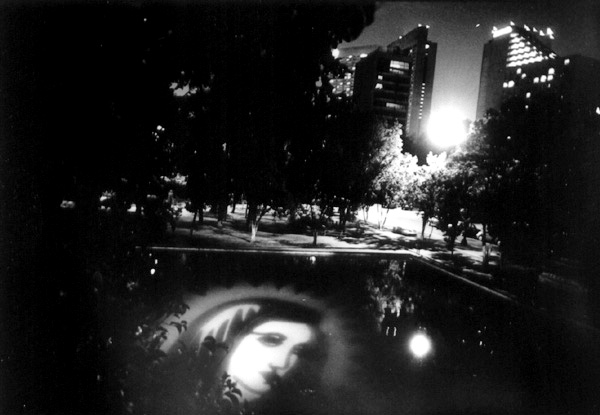 JULIO OROZCO, 1967 ARTIST
Photography based artist, lives and works in Tijuana / San Diego.
2014. Artist in residence. Bundeskanzleramt Österreich.
2013. Secondary Inspection. Corcoran Gallery, Washington D.C.
2013. Salas.. (Cartel series). Antimatter Film Festival, Victoria, Canada.
2013. BIO-ZIM (Ghost Magnent Roach Motel). Beijing, China.
2013. Last Fight (Ghost Magnent Roach Motel). Cineteca Tijuana, Mexico.
2013. Salas.. (Photo series). Centro Estatal de las Artes Tijuana, B.C. México.
2013. A Very Large Array. Museum of Contemporary Art San Diego, California.
2012. Global Cicle of Videoart. Santa Engracia Artes Integradas, Barcelona, Spain.
2011. Ho-yee'-tah. Athenaeum La Jolla, California.
2010. New Contemporaries III. Project X Art Gallery, Solana Beach, California.
2009. Memorials. Nowy Theatre, Warsaw, Poland.
2009. Elipsis. Centro Cultural Tijuana, B.C., Mexico.
2009. Occasional Relatives. Athenaeum, La Jolla, California.
2008. Viva Mexico. Zachęta National Gallery of Art, Warsaw, Poland.
2008. Sitios 08. Museo del Eco, México D.F.
2008. Interfase. 9th Electronic Music Festival, Puebla, Mexico.
2008. La Flyer. Arte 256, Tijuana, Mexico.
2007. Tijuana Crude. Municipal Art Gallery, Los Angeles, California.
2007. Strange New World. San Diego and Santa Monica Contemporary Museums of Art, US.
2005. Tijuana Sessions. Museo de Historia, Zaragoza, Spain.
2004. Cine-Testigo. Meet Room Foundation, Barcelona, Spain.
2004. Diálogo. The Kitchen Art Gallery, New York, NY.
2004. Tijuana Sessions. ARCO, Alcala Museum, Madrid, Spain.
2004. X Salón de Arte Bancomer. Museo de Arte Moderno, Mexico , D.F.
2003. BC3. Centro de la Imagen, Mexico, D.F.
2003. Love Letters. 4F Gallery. Los Angeles, California.
2003. Islas: Los cielos de San Miguel. Kunsthaus Santa Fe, Guanajuato, Mexico.
2002. Border Iconography. TERRAINarts, San Francisco, California.
2002. Mexartes Fest. Umeda Sky Building, Osaka Japan.
2002. Salas.. (Collection series) La Jolla Museum of Contemporary Art, La Jolla, California.
2001. Salas.. (Multimedia series) Cine Bujazan, Tijuana and Mexicali, México.
2000. Festival de Cine de la Ciudad de México. Piso 42 Cinemex, WTC, Mexico, D.F.
2000. Les Mexicains à Paris. Galerie Anatome, Paris, France.
1999. Antes y Después de Kraftwerk, Arte Sonoro. X Teresa Arte Actual, Mexico D.F.
1999. A Select End-of-the Century Generation. DuBois Gallery, Bethlehem, Pennsylvania.
1998. Tierra de Todos. Festival de la Frontera, Tijuana, Mexico.
1997. Invasioon. Saarema Bienal, Tallinn, Estonia.
1996. Fragmentos que tú desnudas. Centro Cultural de Tijuana, Mexico.
DORA DA COSTA, 1992 CURATOR
lives and works in Vienna/Austria.
2012. Mithilfe im Bereich Kunstvermittlung. MUDAM. Luxembourg
2012. Kunstvermittlerin. MUDAM. Luxemburg
2013. Studiengbegleitendes Praktikum. Musée Rodin. Paris
2014. Praktikum. Galerie Schleifmûhlgasse 12-14. Wien
2014. Assistentin des Kurators Bogomir Doringer.
Exactitudes (Ari Versluis & Ellie Uyttenbroek). Wien
2014. Assistentin der Kuratorin Denise Parizek. Sisi Boy (Zachari Logan). Wien
2014. Assistentin des Kurators Mario Grubisic. Zeitgeist. Wien
2014. Assistentin der Kuratorin Denise Parizek / pogmahon.com
In the City. 1040/1050/1070 Wien.
2015. Assistentin der Kuratorin Denise Parizek. SMart Utilities (Matthias Bade). Wien
2015- Office. PR. Junior Curator. Galerie Schleifmûhlgasse 12-14. Wien
BERNHARD REHN CURATOR, ARCHITEKT AND ARTIST
lives and works in Vienna and Mexico
2008. Ausstellungsorganisation "Gonn Mosny", Museo MAZ, Zapopan, Jalisco, Mexiko, 11° Fes
tival Cultural de Mayo 2005, Guadalajara, Jalisco, Mexiko
2009. Kuratorie für die Ausstellung "Riuyichi Yahagi", Ex-Convento del Carmen, 12° Festival Cultural
de Mayo 2009, Guadalajara, Jalisco, Mexiko
2009. Beitrag als Finalist des Wettbewerbs für den WSD09 World Stage Design, Seul, Korea
2011. Kuratorie für die Ausstellung "Arte en Vidrio - Orfeo Quagliata + Jason Pfohl, Ex-Convento
del Carmen, 14° Festival Cultural de Mayo 2005, Guadalajara, Jalisco, Mexiko
Ausstellungsbeitrag "Madama Butterfly" für den Mexikanischen Pavillon auf der Prague Quadrennial
2011, Prag, Tschechien.
2012. Ausstellungsorganisation "Construyo-Ich baue" und "City Landscape-Lago Texcoco", FAUADY,
Mérida
2012. Ausstellungsorganisation "Dominique Lemieux, Cirque du Soleil" und "Manifestation internationale
d'art de Québec", Instituto Cultural Cabañas, Guadalajara, México, Festival Cultural de
Mayo Produktionsleitung für die Events von "Le Mobile", "ABCD_LIGHT (Purform)" und "Les 7
Doigts de la Main" (alle Quebec, Kanada), Festival Cultural de Mayo, Guadalajara.
Ausstellungskoordination für "Desiring the Real. Austrian Contemporary" in Mexiko-Stadt(MUAC)
und Guanajuato (Festival Cervantino), in Zusammenarbeit mit dem BMUKK, Wien.
2013. Ausstellungskoordination für "Desiring the Real. Austrian Contemporary" in Culiacán
(GAALS/ISIC), Mexiko, in Zusammenarbeit mit dem BMUKK, Wien.
2014 bis 2015. Ausstellungskoordination für "Desiring the Real. Austrian Contemporary" in Zagreb,
Meran, Skopje,Istanbul, Sarajevo, Nishny Novgorod und Moskau, Shanghai, Hongkong, Taipeh in
Zusammenarbeit mit dem Bundeskanzleramt, Wien.
KEN RISCHARD, 1992 SOUNDINSTALLATEUR
Musik and Sound based artist, lives and works in Wien/Austria.
2014. Recordings of concerts. Vienna
2014. Sounddesign for short movie Recordatus by Quentin Bonhomme. Paris
2014. Artinstallation by Nicholas Hoffman. Luxembourg
2014 . Sounddesign for movie Primos by argentinian Director Luiz Olivare Capelle.
Premiere in February. Luxembourg
2013. Musical KIC. Luxembourg
2012. Musical KIC. Luxembourg
2011. Musical KIC. Luxembourg
2007-2009. Jazzquartett (Pit Dahm, Roger Winandy, Frank Welsch)
Featured by