A Road-Show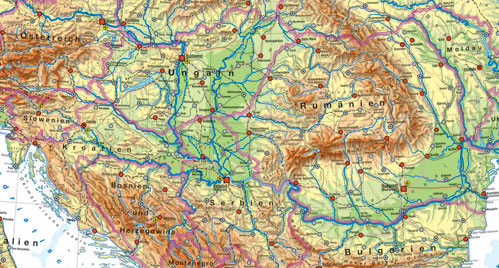 Judenburg-Timisoara-Suceva-Brasov-Bucharest-Belgrad-Zagreb-Ljbuljana-Budapest-Judenburg-Wien
On a proposal of
Agnes Hamvas & Hubert Hasler
Kooperationskünstler*innen
Victoria & Marian Zidaru, NOIMA, Dragoš Hanćiu, Andraš Nagy, Jiri Kocica, Adrijan
Karavdić,
Bogomir Doringer & Bernd Oppl, Siniša Labrović

Road Show - Residency - Documentation - Presentation

Presentation @ 2017 August / Arcube Bucharest, Knoll Galerie Budapest, Presentation @ 2018 Kulturzentrum Judenburg, 12-14 contemporary
Vernissage Arcube Bucharest 16.8.2017
Duration Arcube Bucharest 17.- 20.8.2017
End of August 2017 Knoll Galerie Budapest

The two artists come from various backgrounds of socialization.
Agnes Hamvas, ex Yugoslavia, Hungarian minority, mother tongue Hungarian, education language Serbo-Croatian.
Hubert Hasler, Styria, Mother Language Styrian, Educational Language High German.

The intension of the project is to focus one and the same experience on a theme by two people from different countries of origin and backgrounds of socialization and to match in the presentations artists from the countries they are traveling through.
In 2017 the artists Agnes Hamvas and Hubert Hasler will visit Croatia, Serbia, Slovenia, Hungary and Romania.
Diversity and common historical roots have prompted the two artists to initiate a travel exhibition, inviting artists from Eastern European neighbours. Art postcards from all participating artists will be stay as a left-over at the stations. They are tagging the route of their journey analog and digital on a Facebook page, like a travel book. A printed catalogue will include pictures of the trip as well as installation views. In this way, this art travel achieves a sustainability, Hamvas and Hasler artists will be present at all stations, some of the other artists will join them on several stops. (Like NOIMA and Dragoš Hanćiu in Bucharest, Andraš Nagy in Budapest) In Judenburg and Vienna they will gather completely. The works of the artists will be included in all shows.
Catalogue Presentation in Judenburg and Vienna 2018.
The target is overcoming the language barriers and exploring together the variety of international and interdisciplinary concepts of artistic communication.The initiative campaigns for an improvement of the international dialogue. When we start from Derrida, this constellation develops out of the lack of the ignorance of a language and its associated limitations and the curiosity about a new language. The question of which language is particularly suitable for certain areas is derived from stereotypes and experiences. The exploration of a translation option not only between languages, but also between cultures, nations, political identities is one of the goals of the artistic project. Against the backdrop of the experience of Agnes Hamvas as a member of the Hungarian minority in Ex-Yugoslavia, the question of the so-called "mother tongue" identity, which is gaining in importance in the debates about mono- and multiculturalism, nationality and citizenship. This approach is also abused by populist and fascist politicians. It also deals with the approach of the violence of the appropriation of a language and its intensification. Language is an indispensable system in our life to establish contact between the consciousness and the external world. People can only carry their thoughts and their whole inner being outwardly, into the external world, by means of language. If this does not work, the language has failed. Wittgenstein, with his quotation, criticizes the language. For him, everything that can no longer be grasped in words goes beyond the "non-wordy". When a person expresses himself by her language, there is no guarantee that her opponent actually understood what the person wanted to express. Language is only one meaning of expressing, its thought processes, but also mimic, gesture and body language play a role in turning its innermost essence outwards. Due to the diversity of the languages ​​used today in large cities such as Vienna, Bucharest, Budapest, Ljubljana, Zagreb, Belgrade, we loose the sense of mother tongue and possibly the feeling for our roots. The result of the linguistic diversity can also be a language loss, none of the languages ​​will be perfectly spoken - new forms of mixed languages ​​will arise.

In the village of Suceva / Liteni, Victoria and her partner Marian set up an artist's residency in the house of her ancestors. The enchanting property in Bucovina makes you forget the everyday stress and the noise of the city. It is intended to be a place of retreat, reflection and creation, a place for exchange and communication, without being affected by everyday burdens and requirements. In this place, Agnes Hamvas and Hubert Hasler will visit the two Romanian artists and conduct research in the Bukovina area before proceeding towards Bucharest to continue their investigations of countries and languages.
Artists

Agnes Hamva's stage designs and spatial installations are accessible experiment arrangements, surveying space in time and dimensions, which she builds and transforms on a philosophically based knowledge. She always raises the question of definition and the importance of an individual and her desire and connects this work on the one hand with Warhol's approach "15 minutes for being famous", as well as with Erwin Wurm's "one minute sculpture and the penetrance of the self-representation urge of the 21st century. Agnes Hamvas uses creativity from different genres of art and interweaves them with her skills without forgetting contextualization.

Hubert Hasler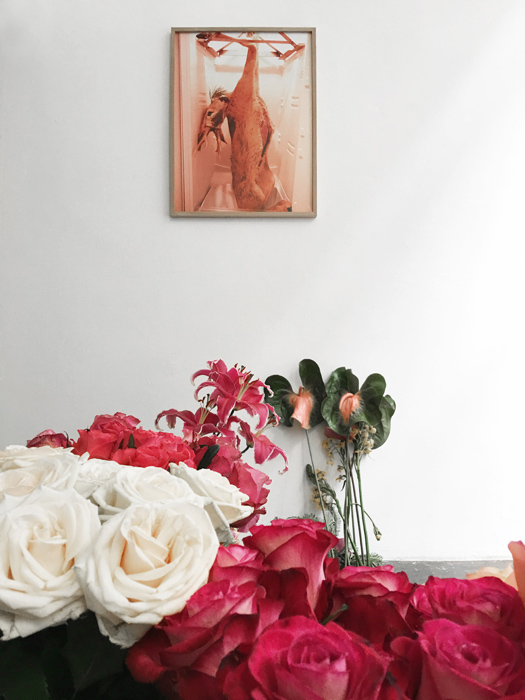 My work contains issues related to photography and flowers.
Empathy, migration, and self-reflection are topics that move me, affect me, and lure me over and over again. These issues can be illustrated by photographic means, but can also be represented with plants, flowers, bouquets – or both can be combined as to some kind of performance, bringing together two very divergent disciplines respectively forms of art and craft man ship. I examine whatever there is corresponding between photography and flowers. The significance of a photograph can be reinforced or can be added new interpretations/relevance by drawing attention to flowers.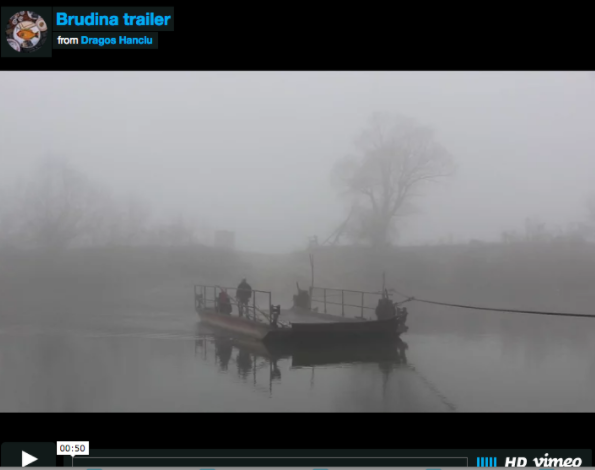 BRUDINA / Documentary, 2014
Brudina (a local word defining the floating bridge connecting the shores of a river) is a documentary essay about isolation, loneliness, and destiny. The life of the two protagonists is depicted in recurrent, concise detail, alternating with poetic, deeply atmospheric frames. The film reveals in no more than 17 minutes, a small revolute universe, a narrow world consisting only of the water flow, the two, shores, the movement of the floating bridge, the tension of the anchor chain cables and the gliding movement of the pulleys.

NO ONE SAW IT TWICE / Photography, 2014
András J. Nagy was born in Hungary and grew up in South Bronx and South Brooklyn. When he was eight years old he began to photograph Graffitis with the Leica M4 of his father. Nagy lived in Rotterdam, Los Angeles, Osaka and New York. Today he lives and works in Budapest. His works at the current exhibition are results of photographic journeys through the United States, Columbia, Montenegro, Estonia and Hungary that took place in 2002. All the works of the exhibition are unique, there are no negatives. Nagy tries to hold transient moments: a banker walking on Lexington Avenue with a huge packet under his arms, an empty cemetery in Hungary under a rainy sky, a tourist at the cash machine, an abandoned industrial building. Nagy photographs landscapes, buildings, interpersonal situations that he crosses by during his travels. He records different realities, fears, pleasures and weaknesses of the society. He shows social needs and dreams. Besides ordinary situations and trivial places Nagy shows something else in his photography: the narrative character through which the viewer is moved into the situation. That's why Nagys photographs work outside time, space and context. By mixing architectural, figural and scenic photography he breaks with the strictly separated genres of the classical modernism. His works belong to the genre of street photography, which is related to photojournalism and documentary photography, and is as old as the medium of photography itself.
Light interaction change directions 
Performance / Video / Drawings / Paintings
The group was founded in 2003 in Western Romania. At present, The NOIMA Group has the following active members: Sorin Scurtulescu, Andrei Rosetti, Ciprian Bodea, Cosmin Frunteş, Dan Gherman.
In 2014 Noima decided to be not only a dialogue space between individual projects, but a visual environment, in which semiotic practices - actions - games may occur. From time to time, Noima becomes, more or less, an open "form of life" (term used by Wittgenstein in On Certainty, 1969).
Figuring the group as an organism, a living system and playing with the words life form - form of life, Noima artists are sometimes talking about the big (collective) eye, the tactile whiskers... in performative dialogues with the surrounding space, with the world. Drawing, painting, sharing visual experiences, changing perspectives and approaches, following game-moves and often a particular grammar, searching for collective visual perspectives in different contexts; language games like 360º sessions, Bringhing Light, Wind Light Air, Horizons, dLIGHT clearly shows Noima recent actionism in the light of Wittgenstein's late ideas on language.
Mixed Media
https://vimeo.com/152304052
When you enter the courtyard of the former colour and brush fabric Hale in northern 
Bucharest, nobody suspect that in the old halls are now dozens of contemporary artists. In one of them I visited the workshop on Victoria and Marian Zidaru. Small fenced terrace (common area with Mircea Roman sculptor) with umbrella and flowers already moderate industrial atmosphere up there. As you enter the studio spouses Zidaru stepping into another world. The ground floor, climbing the stairs to the floor and then to the bridge are accompanied by angels and old objects specific to the ethnographic collections. You do not even know exactly where you are in the attic of the father grandparents, in a church or in a workshop that creates two artists. Surrounded by so many outstanding works I did not know where to start, take pictures ... It was enough to set off; everywhere it was something new.
Text and Photo Lucian Muntean, May 9, 2014

B e r n d O p p l i n c o o p e r a t i o n w i t h B o g o m i r D o r i n g e r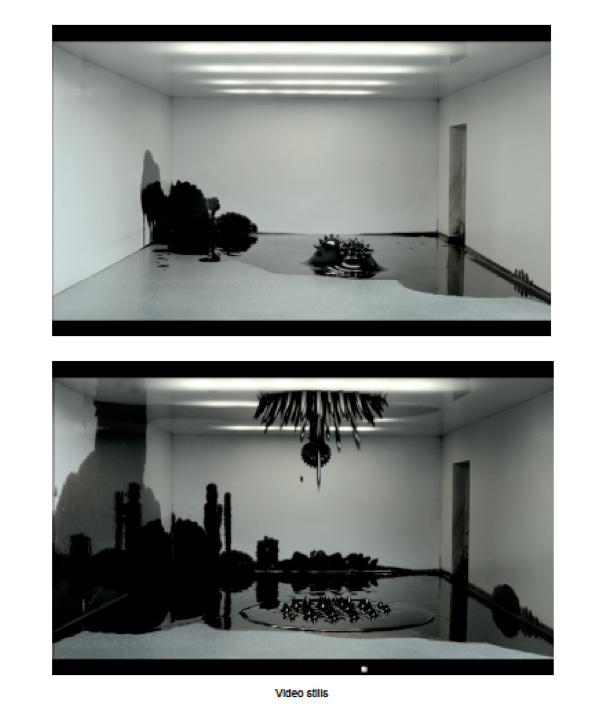 D A R K M A T T E R ( C A S E N U M B E R 2 ) 2 0 1 6
The project "Dark Matter" is the result of the collaboration between the two artists Bernd Oppl and Bogomir Doringer, specially organized for the Vienna Art Fair 2014. In this video work two researches are coming together. Bernd Oppl has been busy with investigation of architectural structure for quite some time and he represented small scale models as film sets. In his models surreal transformations are taking place. This time the designed room welcomes an alien looking sculptural form. That is one of possible structures created as ra esult of research on which Bogomir Doringer has been working since 2010. In his research he used military material ferrofluid as an artistic material and created sculptures of science fictional presence in real. It shows up that fiction is a temporary state. The presented artwork is an announcement, a teaser for a bigger scale project, on which these two artist will work together in a coming period.

Siniša Labrović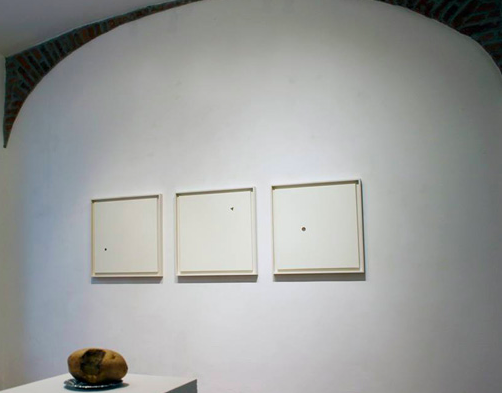 ARTIST SELLING HIS SKIN
Siniša Labrović was born in Sinj, Croatia, is a professor of literature and started to get involved in visual arts in 2000. He is a conceptual artist and uses performance to express himself. He naturally enters his artistic practice on his body, which becomes his tool, medium and artwork at the same time. Using his body to express ideas, he does not restrain himself from often drastic and radical moments or interventions into his own body. His work is often socially engaged and major themes are the position of man in these times of the domination of the economy and politics, the relationship of the private and the public and the influence of the media culture, often accompanied by a wry sense of humor and irony. The artist who uses his own body as a medium of art blurs the boundaries between artwork and artist. It creates an interesting tension between self and other and has an autobiographical function in that it not only reveals universal themes of significance to the artist but, given the intimacy of the canvas, it also betrays personal preoccupations, and signifies the artist. The use of the human body, the artist skin as canvas (triptych, abstract painting) and putting himself on the art market bring an intense physical and emotional proximity to the piece.

Jiri Kocica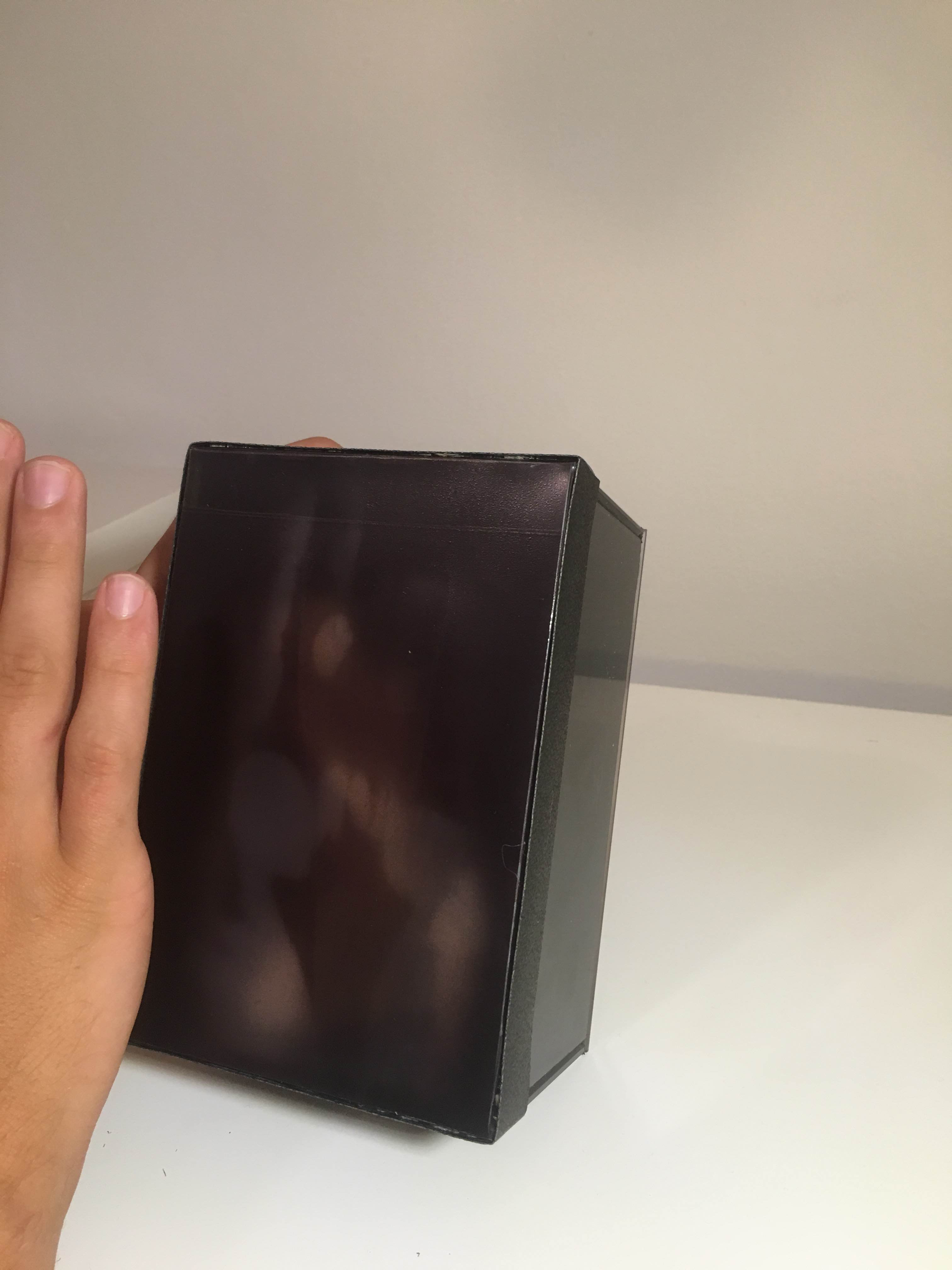 The project "Art side the box" is dealing with geopolimers, gels and some hidden or semi-hidden sculptures. All of them will be hidden in kind of cubic forms. Some of the figures will be visible through micro tomography. The statues will be made with a 3D program connected to a 3D printer. There will also be gels for analyzing of DNA or proteins. Some of the figures will be equipped with lights and with colour surface changing by being touched. This kind of sensitive to temperature material we already know from juwellery rings, which are detecting our emotions with the help of the temperature of our skin. Hidden figures will appear as a consequence of the change of the colour. to translucid tough. Some of the sculptures will be allowed to touch as well as to open it. The recipient will be able to uncover the hidden contents, the interventional side of the project. For the visitor it will be possible, with that kind of display, to the geek behind the curtain of a creative process. Jiri Kocica is focusing the transparency of procedure and the relation to parts of science. Some of these things we know quite well as users, but we never have asked about the backgrounds and inventions of the development. Jiri Kocica´s art work is evoking a kind of genuine interest for the process of creation, in a wide range of interpretation.

Adrijan Karavdic (born in Belgrade, SFRY in 1989) is a researcher at the University of applied arts in Vienna. He received his MA at the same university in 2016 (Art & Science) and holds a Diploma in graphic design from the Faculty of arts and Design in Belgrade. While studying in Belgrade, he co-founded the design collective "Autosugestija" working on various design & visualization projects. Parallel to this, he developed a strong interest towards art and research, which lead him to continue his studies in Vienna. As a researcher, he works on the project Control Room where he investigates and develops possibilities on future controlling environments , by combining design practices and up-to-date technology he is trying to fill in the gaps between various engineering disciplines. His current artistic interest is a connection between economy; automatisation and the relation of the two with the topic of accelerationism. In 2013, Adrijan won the best prize for short animation in Subotica (Serbia), and in 2016 he was awarded in London (UK) for his research and visualisation on the topic of "Future of money: Origins of money".
Curatorial Intension
,,The limits of my language are the limits of my world,,*
*Wittgenstein, (Tractatus), 1918

The project consists of two parts
°The Road Trip / Residency
°Die Presentation

°The Road Trip / Residency

The journey will lead the artists from Vienna via Szeged/Debrecen, Arad, Timisoara, Cluj, Iasi to Suceva, to the house of Victoria and Marian Zidaru (Residency). The stations on the route and the places of their stops will be documented and will be visible for the followers on a face book page. Artists from Hungary, Romania, Serbia, Croatia, Slovenia and their works will be collected as the bread and involved in a group exhibition. The aim of the photo collaboration of Hamvas and Hasler is to look at a motif through two different angles, which are determined by their own socialization, artistic perception, by the influence of the thoughts and sensations of the moment. The personal perspective of landscape will be compared with the view of the artistic partner.

° Presentation

"One speaks only one language". "One never speaks only one language".
Using overhead projector and foil prints, the resulting work is superimposed, the view is doubled. Changing the view of perspective, landscape, society does not depend on the intellectual ability of the viewer, but is shaped by education and by personal environment. Even a delimitation from the original influence usually does not allow an absolutely independent view of it.The collected works by artists from the partner countries will be integrated into the display and will be exhibited in all places.
Proposal and Text Agnes Hamvas, Denise Parizek, Hubert Hasler 2017