Travel Exhibition



WITTGENSTEIN HAUS VIENNA



 4. Dezember 2018 19 Uhr

5.-22.12.2018



Artists


Minna Antova, Žarko Aleksić, Ilse Chlan, ​Maria Grün, ​
Agnes Hamvas & Hubert Hasler, Edgar Honetschläger,

Yukika Kudo,

Frederick and Lilian Kiesler Foundation, Oscar Cueto, Michael Koch, Svetlana Mircheva, NOIMA, Lily Koto Olive & Laurentiu-Virgil SPATARU, Adelina Popnedeleva, Illian Savkov, Franz Wassermann

Curator

Minna Antova, Denise Parizek, Oscar Sanchez



WITTGENSTEIN is an interdisciplinary exhibition with educational program
WITTGENSTEIN The curatorial premise focuses on the multi-layered language-based investigations of Ludwig Wittgenstein but more specifically on how his ideas in the 21st-century are interpreted by
mixed media visual artists.
WITTGENSTEIN proposes a combination of new media art works,
interventions and performances, installations and new genre works that mirror Wittgenstein´s skills as a philosopher, architect, designer, lover of fine arts and aural experience.
WITTGENSTEIN is a modular travel exhibition. The display of the exhibition is just as variable as the participating curators, artists and their works of art. The destinations can be extended.

In 1918 Tractatus-Logico-Philosophicus was completed by Ludwig Wittgesntein and it first appeared in 1921.
Denise Parizek initiated with international curators Minna Antova, Wayne Bearwaldt, Oscar Sanchez, the travel exhibition "WITTGENSTEIN" for this centenary.
The curatorial approach is to break boundaries in thinking and geographical nature as well as limits of the genres of the visual arts. Parallel to Wittgenstein's all-round genius, which ranged from architecture, art, music up to philosophy. The curatorial and artistic approaches of the exhibition is the interpretation and transformance of ideas, thoughts, visions of artists from Bulgaria, Canada, Mexico, Austria and Romania in all these countries.
In any case, the goal is to return to the themes that make up Wittgenstein's philosophy to discuss his point of view and to connect his thesis with the 21st century.

Proposed funding sources
Canada Council for the Arts, Sask Arts Board, Creative Sask, BKA, ACF, KulturKontakt and private donors.

Cooperation Partners
Frederick and Lilian Kiesler Foundation, Canadian ART bord, ACF
ARTISTS
ZARKO ALEKSIC

WITTGENSTEIN´S BEETLE


On the gourd floor of the Wittgenstein´s House there is an old table. On the wooden table there is a square black wooden box with a beetle moving in its bottom. The bug cannot get out of the box, because the box is closed on all sides. The viewer cannot see that there is a bug inside. This art work is called Wittgenstein´s Beetle.


MINNA ANTOVA

Semantic Play with Contradictions and Crossings
Minna Antova realizes the impossible at the intersection of archeological and virtual space in the presence of painterly action, which is a libidinous, liquid giving - an end to postponement structure in the rhythm of the brush, performing for the walls their own melodies, which are contained in them as an echo of voices, of a babble of voices, of a choir of voices, knocking, calling, drumming, screaming.
Symbols, which in Minna Antova's horizontal paintings follow the stroke of the brush, which - while putting on paint, bares a palimpsestos. Script interweaves with cuneiform-, with hieroglyphic-, even with rogue- and thief symbols.
The script is stirred up through the paint, dries in the fields, whose tears and wounds, witnesses to attacks - and which yet point to other spaces.
The vertical paintings originate in these dreams in which the flow of colour - having left all echoes behind - has become ecstasy, virtual present, which cli- maxes in a jubilate, the kind of which can be seen in angel wings of paintings of the last judgment and whose Karmesin spits fire. Its fullness will bring out the emptiness of space to which Minna Antova's paintings draw one's attention, not the other way around.
Gerburg Treusch-Dieter Professor at the Free University of Berlin and at the University of Vienna.


ILSE CHLAN





Family Resemblances

family resemblances work in progress/ seit 2006
Installation, Digitale Belichtung auf Fotopapier, 30 x 45 cm, Audio
Wittgenstein introduced the concept of "family resemblances" , to collect certain categories of things which are beyond a taxonomic classification . Beside a hierarchical classification of broader and narrower terms one could see between concepts common traits and relationships. Thereby the
recipient will get a different order and perception than usual. Peculiarities are visible which are not
observed in a hierarchical classification.


OSCAR CUETO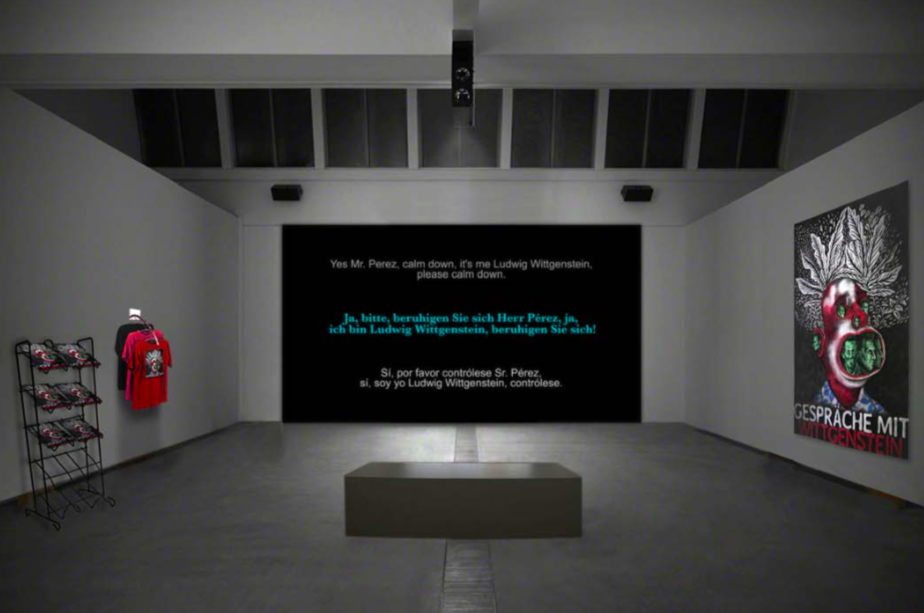 Born in Mexico City, 1976. Lives and works in Austria.
Wittgenstein meets Perez
It will be a two personage performance. Wittgenstein is calling Perez, a man with Tourette Syndrom. The talk without any

sense is related to the conflict between center and periphery. The performance will be a collaboration between Vienna Wittgenstein Haus and Bikini Wax, an artist run space in Mexico.

Conversations with Wittgenstein is an installation consisting of a short film, poster, T-Shirts and Music Cassettes that work
as promotional items. The film is an Aria in 5 acts. Each act is a telephone conversation between Wittgenstein (the Austrian philosopher) and Perez (a man with Tourette Syndrome).

https://vimeo.com/215143619

What is interesting about a self-denying artist? Who actively refuses to play a certain game, or does so with a naïve burst here and there? Cueto´s artwork is a part of the current debate regarding artists who are attempting to address a larger issue of how money and the value of the art commodity is driving the art world, but I am not sure that any artist has been able to address critically and simply this issue as Cueto has, especially an artist from Mexico. He has been able to develop a body of work that is extremely self-critical with critiques of the art world and market that do critique his own role as an artist. Cueto is able to involve the public, in a way dumb it down, to comically and interestedly open this international phenomenon of a money-driven art market and the resulting fame and fortune.
Cueto is still a young artist who has the potential to hone his craft, and to grow, but will fame escape him? Perhaps, never the less, this is a refreshingly honest body of work that does not lose its self in scholarly pursuits but is inviting, entertaining and pointedly questions a status quo. Cueto's vision challenges his audience to distance themselves from the seriousness within the confines of history, knowledge and art practice thus becoming aware of their dependency on traditional ways of
perception.


MARIA GRÜN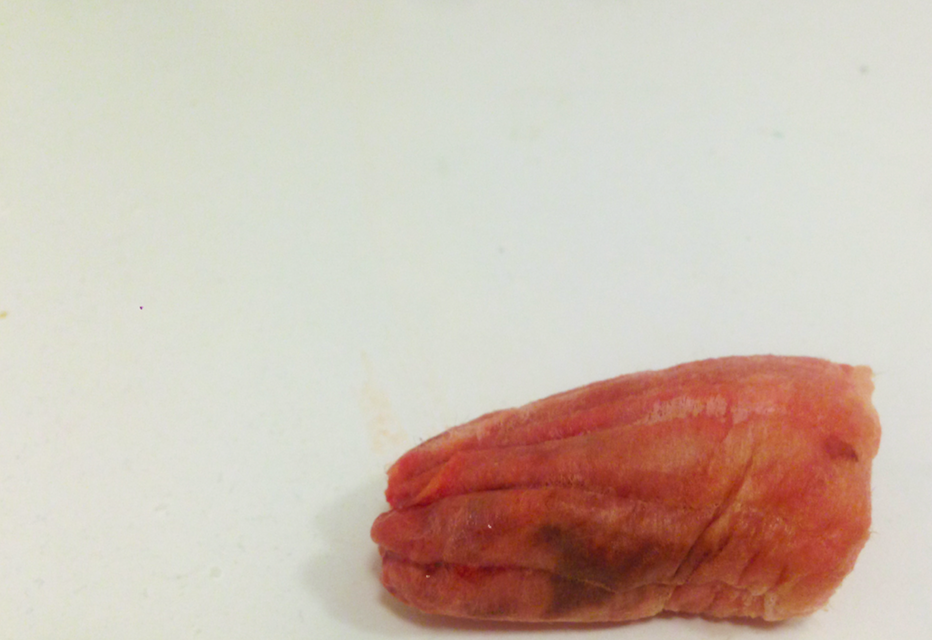 "Mollusk"
16x11 300 dpi.

Der Prozess der Entfremdung und die Auseinandersetzung mit dem Abjekten ist meinen Arbeiten eingeschrieben:
"Neither subject nor object. There looms within abjection, one of those violent, dark revolts of beeing, directed against a threat that seems to emanate from an exorbitant outside or inside, ejected beyond the scope of the possible, the tolerable, the thinkable. It lies there quite close, but it cannot be assimilated..." 1
"Die Philosophin und Psychoanalytikerin Julia Kristeva definierte das Abjekte als etwas" Abgelehntes, dem man nicht entrinnen kann, vor dem man sich nicht gleich eines Objektes schützen kann...
Das Abjekt ist etwas Abstraktes und Undefinierbares."2
In meiner Arbeit findet sich das Abjekte in der Darstellung des fragmentierten Körpers und in dem nach außen transferierten Körperinneren. Die Objekte sprechen vom "eigenen Inneren", das gleichzeitig auch als das "Andere" bezeichnet werden könnte, da dieses einerseits im absoluten Naheverhältnis zu uns selbst steht und doch gänzlich abstrakt bleibt. Es ist ein unbewusster Teil unseres Selbst, der erst über dyfunktionelle Vorgänge - durch Schmerzen, körperliche Ausfälle, Fehlfunktionen, ... - "real" und wahrnehmbar wird. Das Abjekte findet sich im Dysfunktionellem des Körpers, das ignoriert werden möchte, weil Unheilvolles damit verbunden ist. Denn Blut, Körperflüssigkeiten, Körperausscheidungen, ...und deren Präsenz außerhalb des Körpers sprechen von Unreinheit, Gefahr, Bedrohung, Tod.
His approach to Wittgenstein is a mixture between visualization of humorous interpretations and the combination of images and words. Where is the border where words are not longer able to explain thoughts and were thoughts can only be said with images.
"It is worth noting that Wittgenstein once said that a serious and good philosophical work could be written that would consist entirely of jokes (without being facetious)." Norman Malcolm, Ludwig Wittgenstein: A Memoir
The above passage is rather ambiguous – does it mean that Wittgenstein said such a thing in a nonfacetious tone, or would the work he is proposing be nonfacetious? (An uncharitable soul might say that Wittgenstein succeeded in writing such a book – Philosophical Investigations.) Such are the types of linguistic analyses which philosophers are prone to engage in, which is no doubt why the profession is often seen as being humorless in the extreme.
Must philosophers be unfacetious? Can one tell a joke without having to also examine what it means? In a recent book Ted Cohen, a noted philosopher from the University of Chicago, ably demonstrates that it's possible to appreciate a funny anecdote on its own terms, while also exploring the complicated set of conditions that must be met for it to elicit laughs.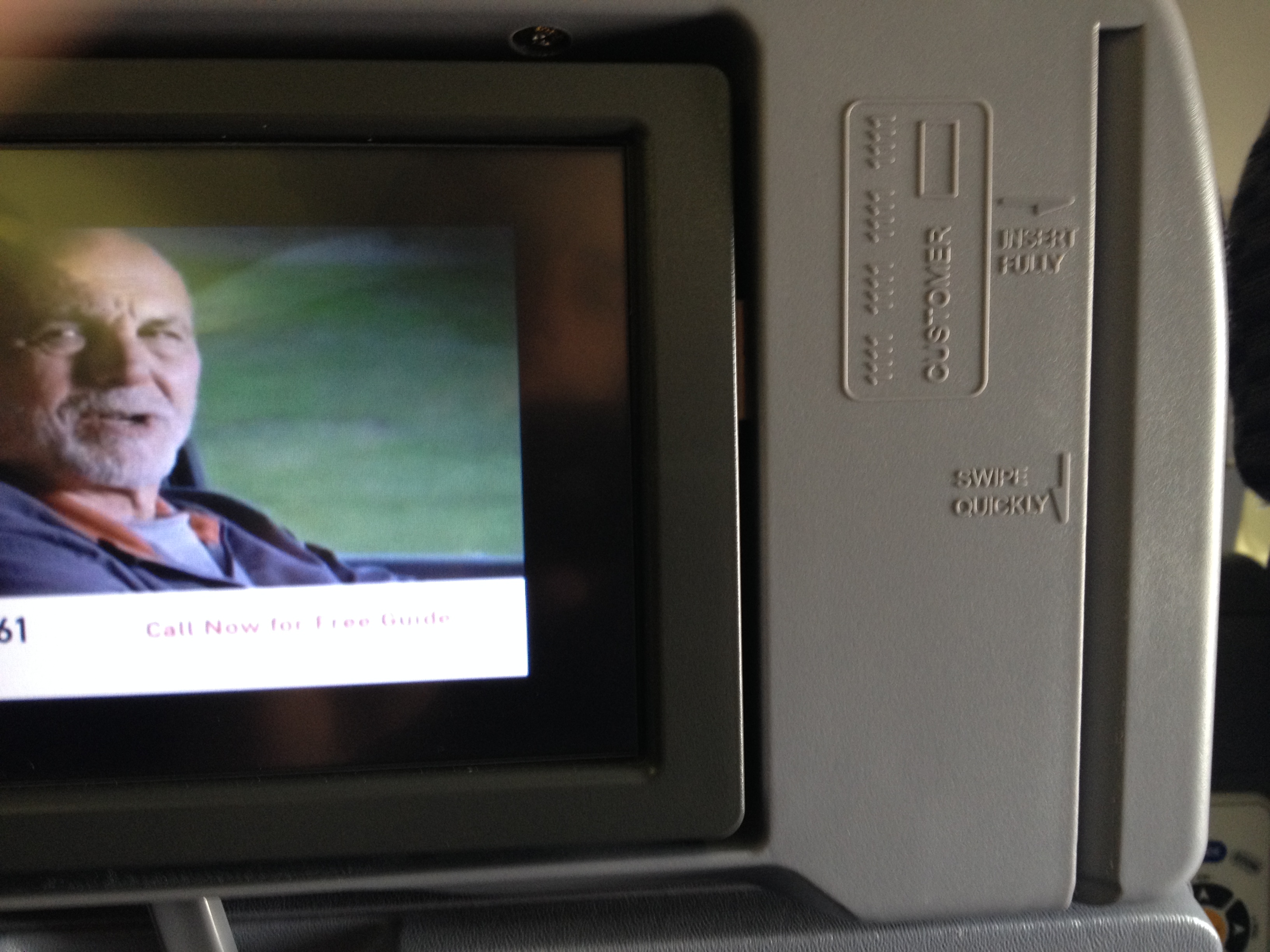 bitte nicht zu früh
"was gezeigt werden kann, kann nicht gesagt werden" auf dieses Zitat von Wittgenstein reagiert die neue Zusammenarbeit von Agnes Hamvas und Hubert Hasler und wirft die Frage auf ob sich die Einstellung von Wittgenstein zu Sprache und Bild ändern würde wie die gegenwärtige Gesellschaft mit Bildern und Text umgehet, ermöglicht eine 100 prozentige Visualisierung auch eine bessere Kommunikation?

Hamvas und Haslers Arbeit basiert auf einen nächtlichen digitalen Gedankenaustausch. Die beiden Künstler Visualisieren eine fortlaufende Kommunikation, diese wird als Performance bei der Eröffnung und der Dauer der Ausstellung weitergedacht und mittels eines Faxgerätes dem Betrachter offenbart. Dieses Faxgerät wird mit den Mobiltelefonen der beiden Künstler verknüpft sein, und bei jeder Übertragung einer Nachricht sogleich diese ausdrucken, eine passive Beteiligung dieser Zweisprache wird dem Betrachter ermöglicht und stellt auch die Fragen einer unkontrollierten Gesellschaftsüberwachung in den Raum.
Die inhaltliche Kultivierung des Geschriebenen, Gedankenzunamis, alltägliche Banalität, Gefasel von Nichtigkeiten, emotionale Draufgaben des gedachten Seins und Bildnachrichten sind zusammengefasst inhaltliche Anhaltspunkte, greifen die Kommunikation unserer Gesellschaft auf bzw. stellt die Veränderung der Sprache und des Geschriebenen durch Kurznachrichten dar.

-hicks, sehen wir uns morgen auf kauklai/kaffee
-ja, sehr gerne
-wann passt es dir?
-bitte nicht zu früh
-11h
-bist du saufen
-ja
-nein
-wo
-sowieso
-egal
-eh
-aber
-(lachende emotis)
-eine tolle unterhaltung
-warum
-deswegen
-und wo?
-ah
-genau
-ja
-genau
-um11
-(bild)irgendwo dort?
-oder dort
-ja
-klingt gut
-aber nicht in der kirche
-(bild)
-ok vorm bäcker
-bäcker?
-ah kakau/kaffee
-ist das gleich neben dem anzelgrubef
-rrrr
-bäcker klingt gut aber es gibt so viele
-ach
--ja
-aida
-wo?
USW.....

EDGAR HONETSCHLÄGER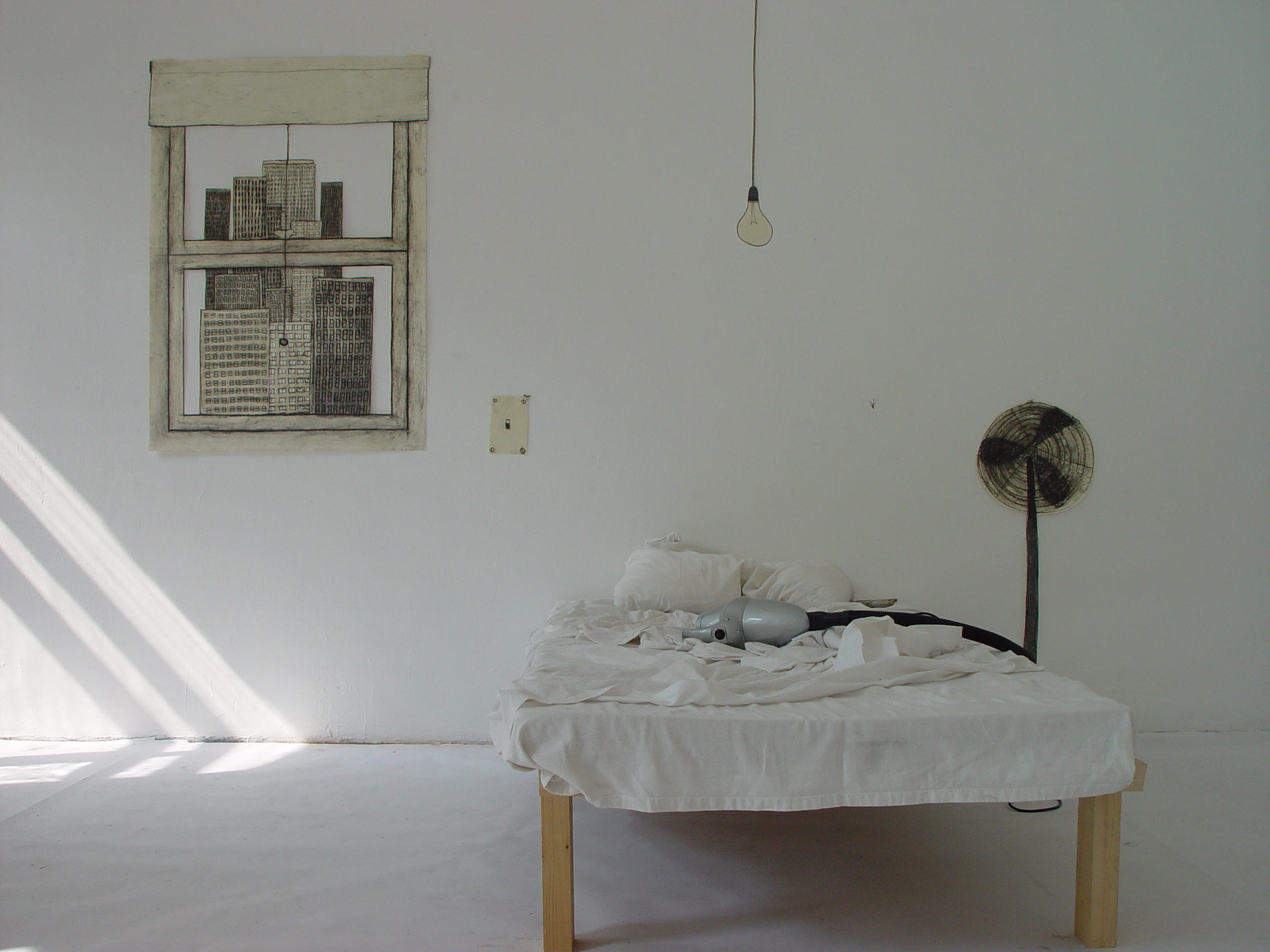 Edgar Honetschläger is an artist, screen writer and film director born and raised in Austria.
Being a rather intense kid, his mother would send him to England frequently - which made him a fervent traveler. He has spent four years of his life in the United States (New York, LA, San Francisco), more than ten years in Japan (Tokyo), three years in Italy (Rome, Palermo, Tarquinia)and a stressful year in Brazil (Sao Paulo, Brasilia). Today he makes his homes mainly in Vienna and Tarquinia, but he continues traveling the globe extensively. The common denominators of his work are the themes of INDIVIDUALISM and the celebration of CULTURAL DIFFERENCES.
DIVERSITY IS NECESSITY. Anything mono casts a threat to the beauty of different expressions/ believes/languages/approaches toward life.
Understanding other cultures is not a given - the question is rather if it is possible at all - for sure it needs a maximum of tolerance (nobody is without prejudice). Honetschläger expresses his believes by means of drawing, painting, film,
performance, installation and photography.

Publication Honetschläger Edgar, HOUSE WITTGENSTEIN,
Vienna 1990 Honetschläger Edgar


FREDERICK KIESLER

American, born Austria-Hungary.
1890–1965
Throughout his career, Frederick Kiesler worked across mediums. He believed that "sculpture, painting, architecture should not be used as wedges to split our experience of art and life; they are here to link, to correlate, to bind dream and reality."1 After studying painting and printmaking in Vienna in the early 1900s, he became known in Europe for his inventive stage designs, featuring mirrors and projections. In the course of working on these projects,he met and at times collaborated with artists such as El Lissitzky and László Moholy-Nagy. In 1923, Dutch artist Theo van Doesburg invited
him to join de Stijl, making him the group's youngest member.


MICHAEL KOCH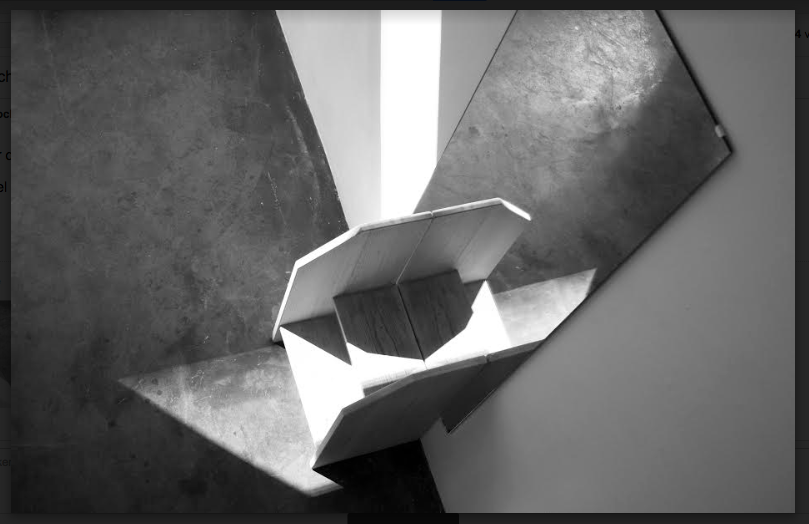 JAKOB´S LADDER

Michael Koch's intervention "Jakob´s Ladder" is the Sliding Door, the entrance into a different dimension. The visitor is given the opportunity to slide into another dimension.
The staircase leads into the (apparent) infinity.
As an analogy to the light tunnel, which symbolizes the transition of life to death, the artist shows us eternity.
The absurdity of life is presented in an endless loop.
The podium into another world does not conceal either reality or ideal, but shows human in his permanent endeavor to master life, to rise up the ladder of Jacob.
(סֻלָּם sullām, ladder in Hebrew, also means stair.)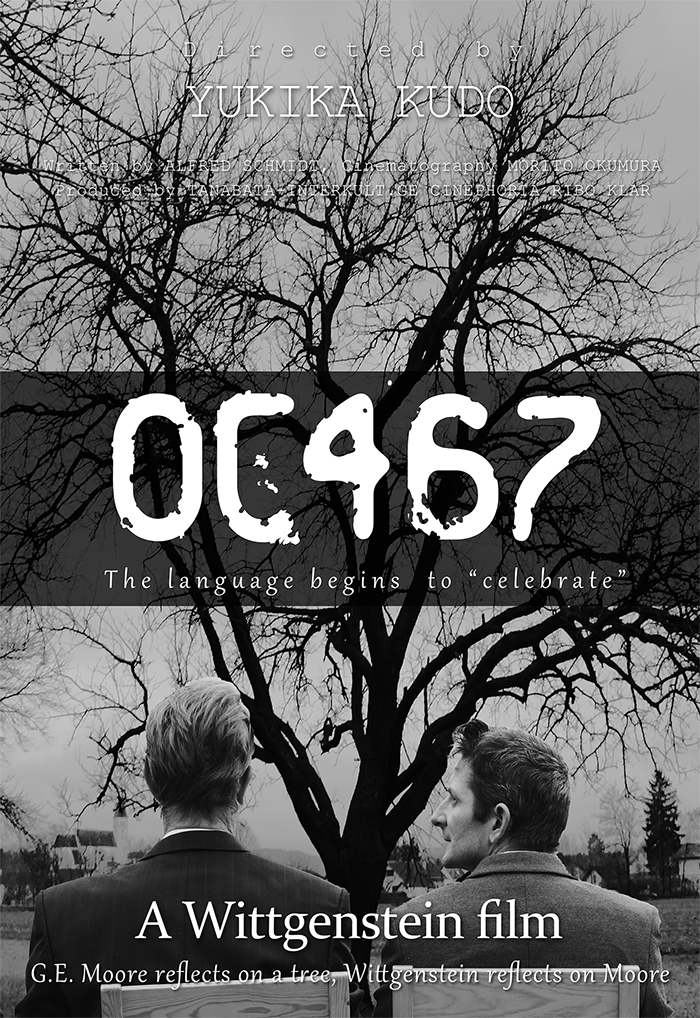 Film : On Certainty 467 / Über Gewißheit 467 / 確実性の問題 467

Ein Wittgenstein-Film

G.E. Moore reflektiert über einen Baum. Wittgenstein reflektiert über Moore.
G.E. Moore reflecting on a Tree. Wittgenstein reflecting on G.E. Moore.

Text: Alfred Schmid

Yukika Kudo - Regisseur, Produzentin und Schauspielerin von acht Spielfilmen und sechs Kurzfilmen
Director Yukika Kudo is filmmaker, producer and actress behind eight feature films and six short films.


SVETLANA MIRCHEVA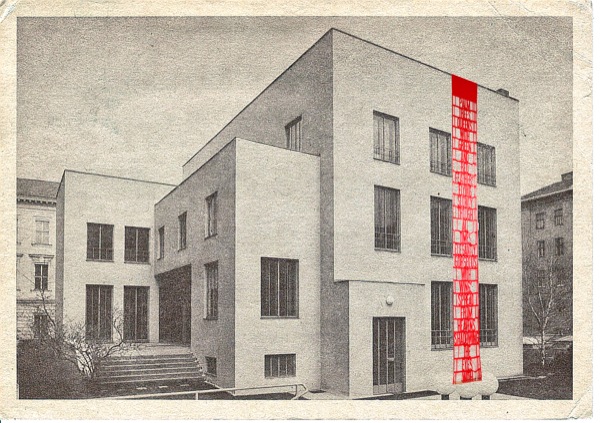 Svetlana Mircheva's works are based upon chance meetings with things and words. Between rebus and cosmic constellations, she twists slogans and computer explorations. Her main interest is in the grey zones bet- ween reality and imagination. Imaginary narratives play an important role throughout Mircheva's work. She uses often randomness, serendipity and blind date as a be- ginning in her works. Mircheva questions our trust in the accuracy, clarity, and reality of our perceptions of the world that are formed by contemporary digital culture.
Vienna soundscapes, recorded with a microphone, translated in images, composed back in music. Vienna seen and heard as grass near water, bird at the city end, hippo roaring, train departing. Translated first into light objects in the space, sounds go back to the earphones, put in rythm.
Facing the shining parallels, the viewer is free to imagine the city with his eyes and ears open.
How does a sound look like? There arises the idea that the sound may take shape, be translated into the language of images, and speak back to us. What sound can shake me up? There comes the thought of the emotion of sound, sound can send imagination far away, carry it away, dissolve it. Can form be translated into music? Simple shapes can create rhythm, pulsation, and bright colors –give a sensation of tone. And where else would sound form be located, if not in the air?
What are the actions in art? What do we do as we make art or talk about art?
Linguistic research developed into poetic compositions-objects. Linking visual art with poetry, music and action. Built by "naked" verbs, the 7 compositions em- body art-related actions words in the space. Movement is continuous, from text to image, from image to text, from sound to letter, from art to action, from action to art.


NOIMA Group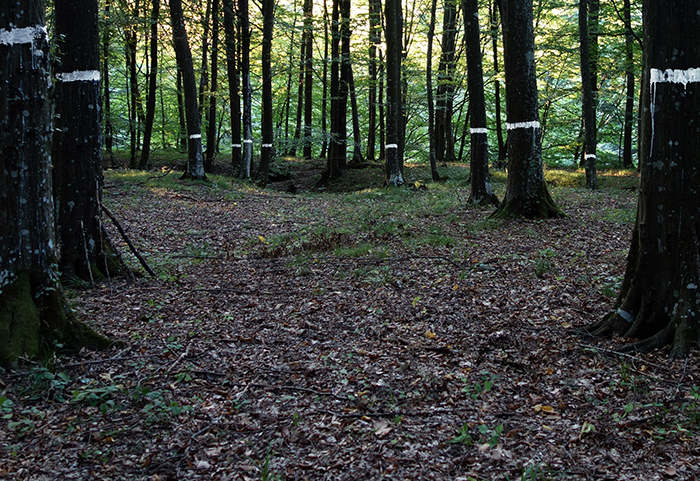 The group was founded in 2003 in Western Romania. At present, The NOIMA Group has the following active members: Sorin Scurtulescu, Andrei Rosetti, Ciprian Bodea, Cosmin Fruntes Dan Gherman.
In 2014 Noima decided to be not only a dialogue space between individual projects, but a visual environment, in which semiotic practices - actions - games may occur. From time to time, Noima becomes, more or less, an open "form of life" (term used by Wittgenstein in On Certainty, 1969).
Figuring the group as an organism, a living system and playing with the words life form - form of life, Noima artists are sometimes talking about the big (collective) eye, the tactile whiskers... in performative dialogues with the surrounding space, with the world. Drawing, painting, sharing visual experiences, changing perspectives and approaches, following game-moves and often a particular grammar, searching for collective visual perspectives in different contexts; language games like 360o sessions, Bringing Light, Wind Light Air, Horizons, dLIGHT clearly shows Noima recent actionism in the light of Wittgenstein's late ideas on language.


ADELINA POPNEDEDELEVA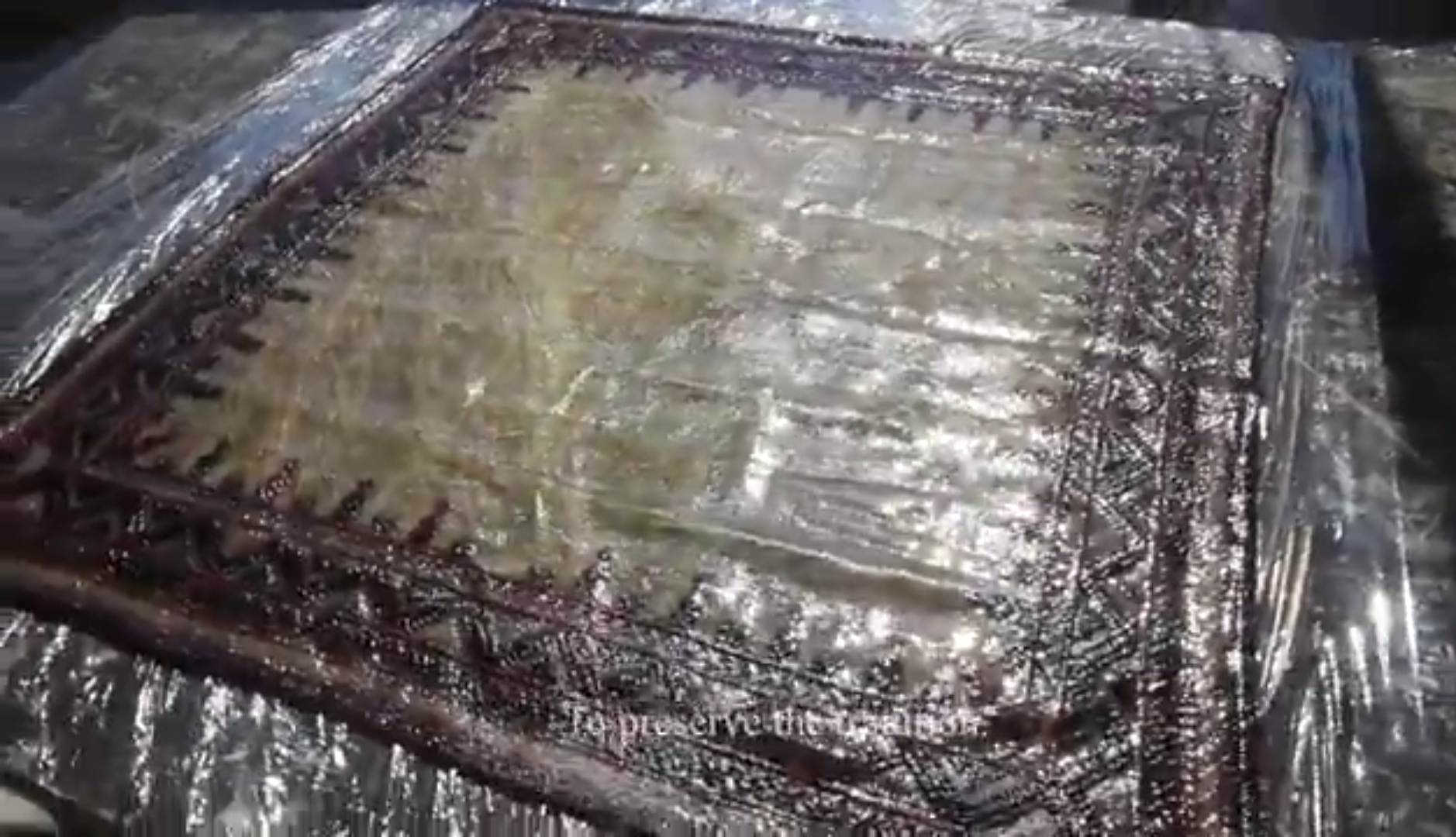 Adelina Popnedeleva uses the materials of everyday life in her performances and videos. In a statement by the artist, she said, "my works are made of provocations from real life because I think that life is full of art." In many of her performances, she says, she "shows her soul" to the viewer. The result is often a visceral and engaging psychological performance. Adelina started working in performance in 1999. She talks about working intuitively; it was later that she completed a PhD in art history and theory, and looked at her previous work from a more analytical perspective. For her, the idea comes first, and then she "tries to find the best way of expressing it."
She says that this contradiction exists in every aspect of our lives, and is what makes us complete. She sees her performances as a way of getting to know her "dark side," or nigredo an alchemical term, which Jung also used in his theories regarding the self.
Asked Adelina if she considered herself a feminist, she qualified the term by saying that perhaps she was a "soft feminist." More importantly, she said, she is against hierarchy. She acknowledges that there are differences between men and women, but disagrees that one should be treated better than the other, because each has its strength. More importantly, however, her work is about the development of the individual in society, and the equanimity that can come from his or her complete integration.
For WITTGENSTEIN Adelina Popnedeleva will develop a new performance in which she examines the differences of the sexes in a psychoanalytic way. The structure of the procedure will be related to the structure of Tractatus Logicus. The work is currently in its development phase. The performance will be filmed by a team of the organization and the video will be screened during the rest of the exhibition days.


LILY KOTO OLIVE and LAURENTIU-VIRGIL SPATARU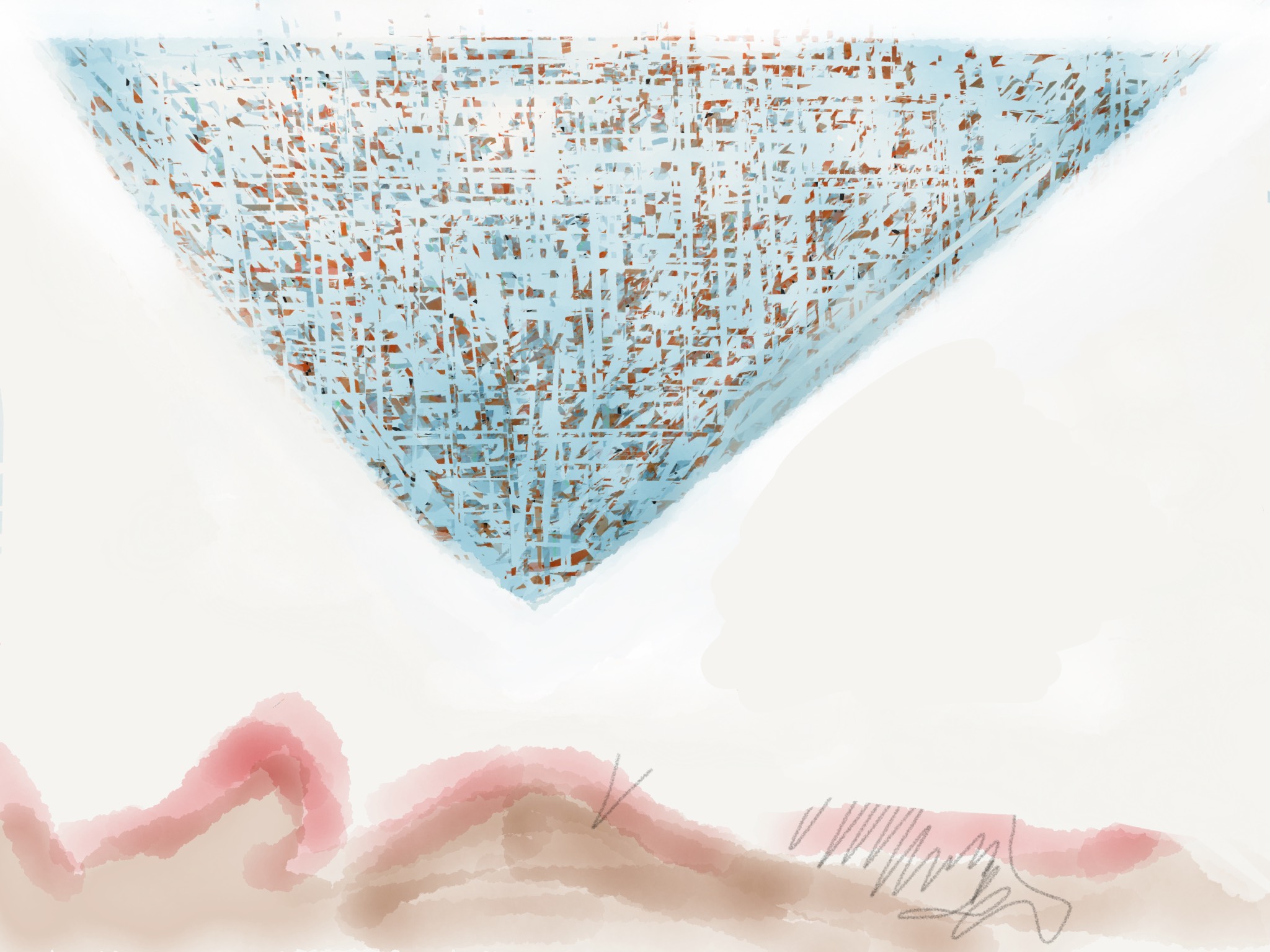 The Tractatus Logico-Philosophicus code / A brief summary of our intended presentation
Our works are experimental art and philosophy regarding Wittgenstein's Tractatus Logico-Philosophicus (TLP). Wittgenstein's Tractatus looks in some respects like an alien explanation of the logic of our language; we have tried to discover the code or the codes of "What we cannot speak about we must pass over
in silence" (TLP: 7.) hidden in this Wittgensteinian philosophic work. Lily's approach consists of different experimental techniques that aim to capture through visual and multimedia art everything about "what we cannot talk" because "we must pass over in silence" (TLP: Preface). So in Lily's case, for the first time we talk about an exhibition of a collection of paintings, multimedia animations, a short movie, and music intertwined that reflect this investigation. In these experimental approaches she tries to reach the Witt- genstein's codes hidden in his famous work entitled Tractatus Logico-Philosophicus. Lily's goal is to find out how Wittgenstein would communicate his Tractatus philosophy to some possible aliens from another planet and imagine how that theoretical decoding of a new unfamiliar communication may appear.


ILIAN SAVKOV




"Maybe diversity is the clue to this project. In a way it's transcription of diversity of Wittgenstein himself.
Multinational and multicultural spectrum of participating artists as well as various art genres on show is that focus on diversity featuring Wittgenstein.
Nowadays transitions make the key to humanity. Millions of people make it their new way all around the world.
Even more that process poses a real challenge to Europe. It takes ultimate efforts to make it all smooth and peaceful along the way.
Art is an ultimate mediator. In its big diversity of interpreting views and opinions it makes cultural fundaments blend in arte facts that subdue more or less to universal understanding. I have been working throughout the years painting, drawing, cartoons and all sort of mixed media within.
Thinking of myself a diverse artist. This approach comes and goes naturally without pressure or guidance on it.
It's more a temptation than any other thing. Just irresistible curiosity." Ilian Savkov


FRANZ WASSERMANN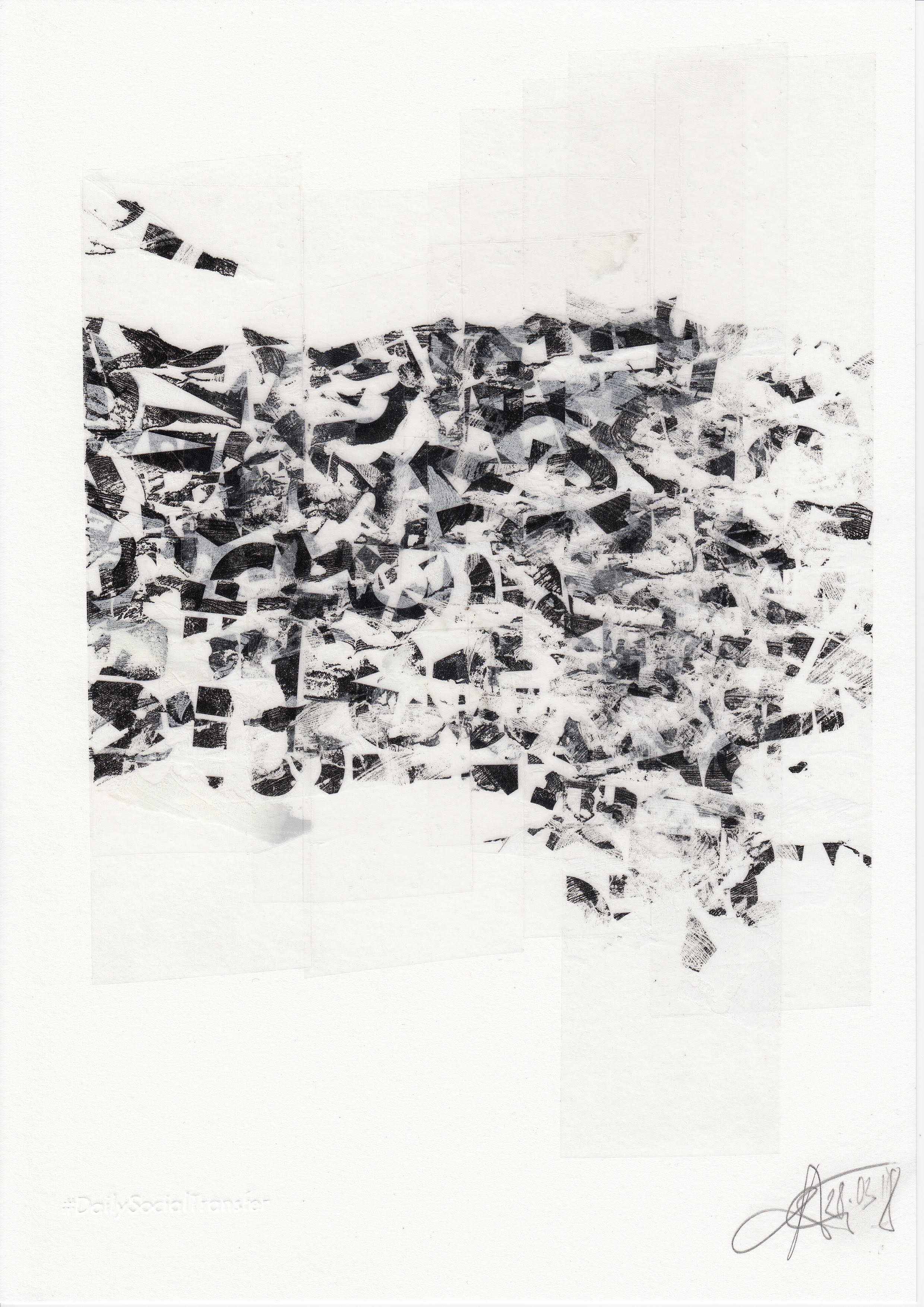 #DailySocialTransfer

With the art project #DailySocialTransfer I am reacting to the abundance of news that reaches us each day from all over the world. Since 01.01.2017 I am buying a newspaper every day to then apply adhesive tape to the surface of images and text fragments of interest to me, so as to extract them from their original contexts. Subsequently I have rearranged these fragments on drawing paper, creating a collage. And the Capture of each peace, will be a local or global head line. These art pieces are being dated, signed and labelled with a special embossing: the hashtag DailySocialTransfer. In this way, daily a unique work of art is produced that critically responds to many of the news items published around the globe.

WITTGENSTEIN
The exhibition WITTGENSTEIN will be a challenge for audiences but no more so a challenge than the
philosophical constructs attributed to the Austrian philosopher Ludwig Wittgenstein (1889–1951). It is
said that the philosophical underpinnings of Wittgenstein's work can´t be well understood. The only
thing we can do is to draw near, to understand parts of his theoretical approach.
For that we are allowed to approximate an understanding of Wittgenstein's concepts from diverse directions, i.e., Philosophy, Architecture, Music, Art, Literature, Gender Studies, Jewish Society in Vienna before World War II. Bertrand Russell described Wittgenstein as "the most perfect example I have ever known of genius as traditionally conceived; passionate, profound, intense, and dominating."

Wittgenstein himself offered the following: "My propositions serve as elucidations... anyone who understands me eventually recognizes them as nonsensical, when he has used them - as steps - to climb up beyond them.
(He must, so to speak, throw away the ladder after he has climbed up it.) He must transcend these propositions, and then he will see the world aright."
Ludwig Wittgenstein, Tractatus Logico-Philosophicus (1922).
For the purposes of the proposed exhibition, a starting point for participating artists is the shared ability to ruminate on roads, paths, stairs and ladders...they all lead somewhere. But do people ever truly reach the summit? Or do they come crashing down as soon as this pinnacle has been reached?
Proposed artworks for the 2018 exhibition at Haus Wittgenstein will address aspects of the famous theory of language of Wittgenstein. In his early work "Tractatus logico-philosophicus" (TLP) released in 1921, Wittgenstein develops a picture theory of language. From his point of view the logical structure of language mirrors the logical structure of the world. However, this relation between language and world – this common ground of the logical form – cannot be expressed adequately by linguistic means, because language cannot be examined in a lucid manner from the outside. It is not possible to speak about language by using language. Wittgenstein expressed the opinion that indeed we are not able to speak about the relation between language and world but that this relation appears within corresponding sentences ("My sentences elucidate in a way that the one who understands me realizes in the end the senselessness when he climbs by them – on them–over them. (So to speak, he must throw away the ladder after climbing it.)"
Actually, the meaningful is in the end what cannot be said. From here Wittgenstein concludes his famous final sentence of the TLP: "Whereof we cannot speak about we must remain silent upon."
Keeping this in mind, one can reflect on Norbert Francis Attard's work with its "luminous" aesthetics that function as a philosophical critical comment about the boundaries not only of a linguistically logical capability to depict but also of a scientific and technical usability of perception and cognition. In many other ways the artists proposed for this exhibition address the same challenge of boundaries or capacity of linguistic pronouncements to depict anything with clarity. The proposed artists include Lori Blondeau, Ilse Chlan, Oscar Cueto, Michael Koch, Maria Grün, Agnes Hamvas, Adelina Popnedeleva, Svetlana Mirceva, Zarkos Aleksi and Franz Wassermann.
Wayne Baerwaldt / Curator, Canada / USA 2017
WITTGENSTEIN

CURATORIAL APPROACH

Our approach of utilizing a Worldwide base of contemporary artists provides an access to a close knit network of experts, institutions and new audience. Our objective can be to further strengthen and build on our community only.
Wittgenstein, with his quotation, criticizes the language. For him, everything that can no longer be grasped in words goes beyond the "non-wordy". When a person expresses himself by her language, there is no guarantee that her opponent actually understood what the person wanted to express. Language is only one meaning of expressing, its thought processes, but also mimic, gesture and body language play a role in turning its innermost essence outwards. Due to the diversity of the languages used today in large cities such as Vienna, Budapest, Ljubljana, Zagreb, Belgrade, Sofia, Timisoara we loose the sense of mother tongue and possibly the feeling for our roots. The result of the linguistic diversity can also be a language loss, none of the languages will be perfectly spoken - new forms of mixed languages will arise.
The target is overcoming the language barriers and exploring together the variety of international and interdisciplinary concepts of artistic communication.The initiative campaigns for an improvement of the international dialogue. When we start from Derrida, this constellation develops out of the lack of the ignorance of a language and its associated limitations and the curiosity about a new language. The question of which language is particularly suitable for certain areas is derived from stereotypes and experiences. The exploration of a translation option not only between languages, but also between cultures, nations, political identities is one of the goals of the artistic project.
Language is an indispensable system in our life to establish contact between the consciousness and the external world.
People can only carry their thoughts and their whole inner being outwardly, into the external world, by means of language.
If this does not work, the language has failed. But the language of contemporary arts has many medias for exploring ideas. The objective of translating Wittgenstein´s multi geniality in images of different medias and to research the universe of Wittgenstein was the base of our international project.
Denise Parizek, 2018