WITTGENSTEIN 2020 PODROOM Beograd
PODROOM Belgrade
Mandarina Brausewetter ° Zarko Aleksic ° Àgnes Hamvas & Hubert Hasler ° Michael Koch ° Yukika Kudo ° Oscar Cueto ° Svetlana Mircheva ° Eva-Maria Schartmüller ° Maria Grün ° Horia Marinescu ° Adelina Popnedeleva ° Borjana Ventzislavova ° Franz Wassermann ° Valentina Lapcheva ° Vlado Martek ° Virgilius Moldovan ° Robert Reszner ° Katarina Zdjelar
Vernissage 6. August, 2020
Duration 7. – 28. August, 2020
Local Curator Zorana Djakovic
More about the  WITTGENSTEIN project
---
Katarina Zdjelar  SHOUM / Video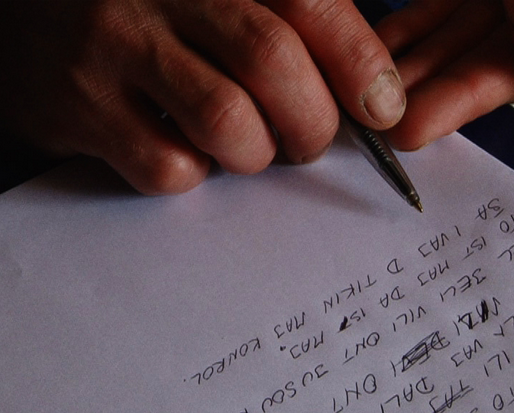 Katarina Zdjelar's video work »Shoum« starts with a blank, we see no image, but hear the sound of the 1984 Tears for Fears mega hit 'Shout'. Then we see an iPod, a sheet of paper and the hands of two men from Belgrade, holding pens. Over the course of the next seven minutes we see how the two attempt to decipher the lyrics of 'Shout' as though they contained a coded message. This is in fact the case, considering that these men speak no English. Thus they phonetically transcribe what they hear, based on their own vocabulary and capacity to vocally interpret the unfamiliar. 'Shoum Shoum Lajdi o Lau', they write and sing, in a strange invented language somewhere between phonetic transcription, Serbian, and English, as 'Tears for Fears' sing 'Shout, shout, let it all out'. We witness how through errors and deformations an entirely 'new language' is being created, which intriguingly relates to the original in a shifted way, namely acoustically. As quickly becomes clear, meaning here is less a matter of understanding than of processing and assimilation. Cut off from the lingua franca of a globalized world, with perseverance these two men create something of their own that lies between the foreign and the familiar. The work thus opens up space for critique by embracing the artist Mladen Stilinovic's statement "An Artist Who Cannot Speak English Is No Artist" and its implicit antithesis.
Žarko Aleksić FIVE ESSAYS / Videoinstallation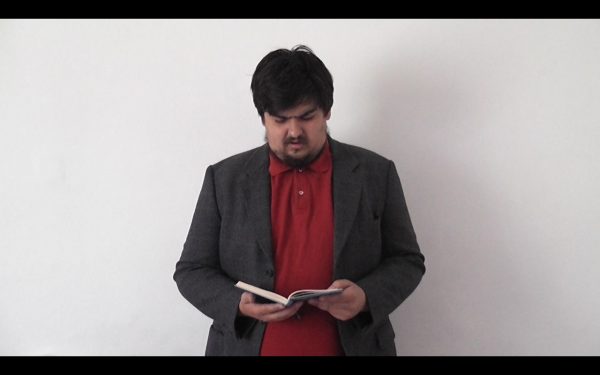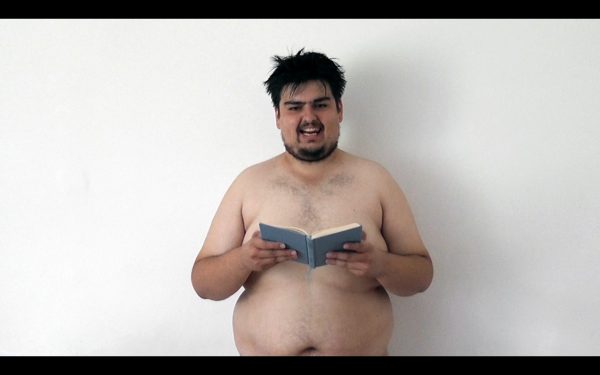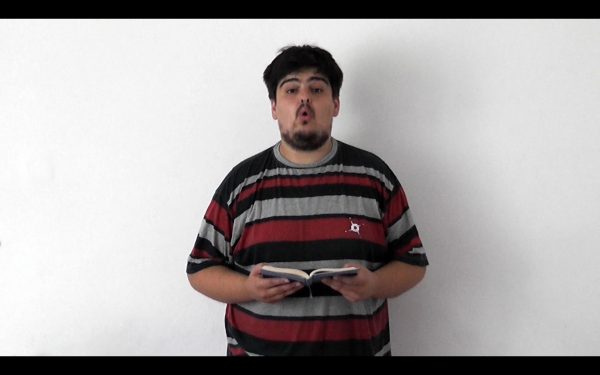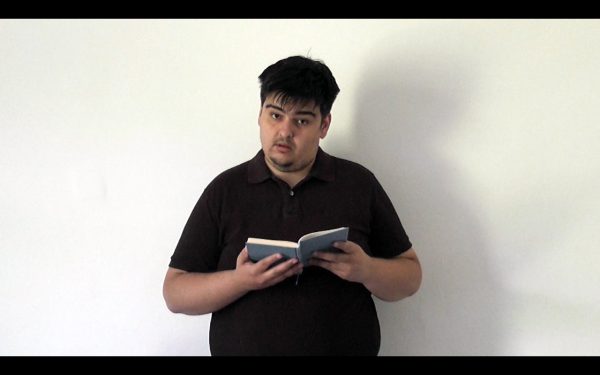 Horia Marinescu ALPTRAUM MIT WITTGENSTEIN / Digital Etching Ex. 1/1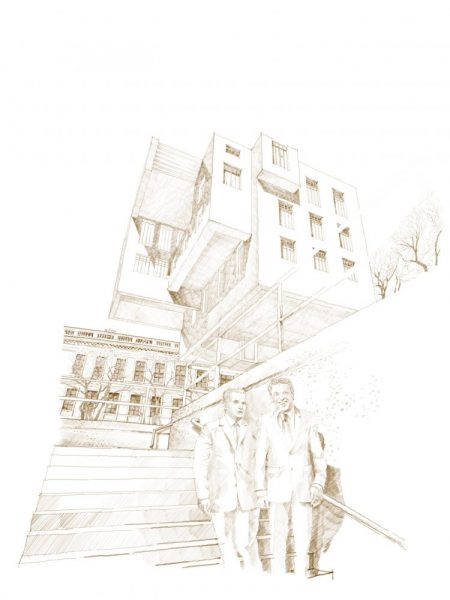 Modernity and populism, between Vienna and Bucharest
Horia Marinescu is in search of a poetics that tells the story of his life's migration and transformation, between Viennese Modernity (Wittgenstein), Romania of Ceausescu and Austria of radical right politician Jörg Haider.
The inverted Modernity becomes for him a reflection of the post-modernity, a loss of orientation – which is not meant in a stylistical way, but ethically and socially:
There is seemingly no connection between the romanian dictator Ceausescu and the austrian politician Haider.
They did not alone have their birthdays both on the 26th of january, but I received my first ID card under the first one, and my first austrian passport under the second one. The dictatorship of the first one chased me in my childhood and youth, the xenophobia of the second poisoned my student years in Vienna. When, in october 2000, the FPÖ party of Haider was sweared in, as part of a government coalition that generated protests across Europe, and I received in the same time my austrian passport, I thought that this must be a joke: did I land out of the frying pan and into the fire?
 The Wittgenstein House preocuppied me a lot, I wrote an essay and made photos for the Zeppelin architectural review. The house symbolises for me the Viennese Modernity and the cosmopolitanism of the city, the sometimes difficult relationship between architecture and philosophy. But the Wittgenstein House is floating headfirst in my drawing. It stands for an inverted world, in which the ideals of the modernity are replaced with populist relativism.
Moderne und Populismus, zwischen Wien und Bukarest
Horia Marinescu sucht nach einer Poetik, die von der Wandlung seines Lebens erzählen soll, zwischen der Wiener Moderne (Wittgenstein), dem Rumänien von Ceaușescu und dem Österreich von Jörg Haider. Die verkehrte Moderne wird für Ihn zur Widerspiegelung der Postmoderne, die nicht stilistisch, sondern ethisch und gesellschaftlich als ein Verlust der Orientierung gemeint ist:
Scheinbar gibt es keine Verbindung zwischen dem rumänischen Diktator Ceaușescu und dem österreichischen Politiker Haider.
Sie hatten aber nicht nur beide Geburtstag am 26. Januar, sondern ich erhielt unter dem Ersten meinen ersten rumänischen Ausweis, und unter dem Zweiten meinen ersten österreichischen Paß. Die Diktatur des Ersten verfolgte mich in meine Kindheit und Jugend, die Ausländerfeindlichkeit des Zweiten vergiftete meine Studenten Jahre in Wien. Als im Oktober 2000 Haiders FPÖ in die Regierung angelobt wurde und ich gleichzeitig meinen österreichischen Paß bekam, kam es mir wie ein Witz vor: war ich denn aus dem Regen in die Traufe gekommen?
Mit dem Wittgenstein Haus beschäftigte ich mich intensiv als ich ein Essay schrieb, Fotos und Dokumentation für die Bukarester Zeitschrift Zeppelin anfertigte. Das Haus symbolisiert für mich die Wiener Moderne und die Weltoffenheit der Stadt, die (oft schwierige) Beziehung zwischen Architektur und Philosophie.
Das Wittgenstein Haus schwebt aber in meiner Zeichnung Kopfüber in der Luft. Es steht für eine verkehrte Welt, in der die Ideale der Moderne durch populistischen Relativismus ersetzt werden.
Horia Marinescu 2020