Utopy of Transformation
UTOPIE EINER TRANSFORMATION ° UTOPIA POR UNA TRANSFORMATIÒN
8.3.2021 ONLINE EXHIBITION
FOR HUMAN * FEMALE * LGBTQ1+ RIGHTs
AGAINST VIOLENCE AND DISCRIMINATION
---
MANIFESTO
2020-manifest-print-upd download english/german/spanish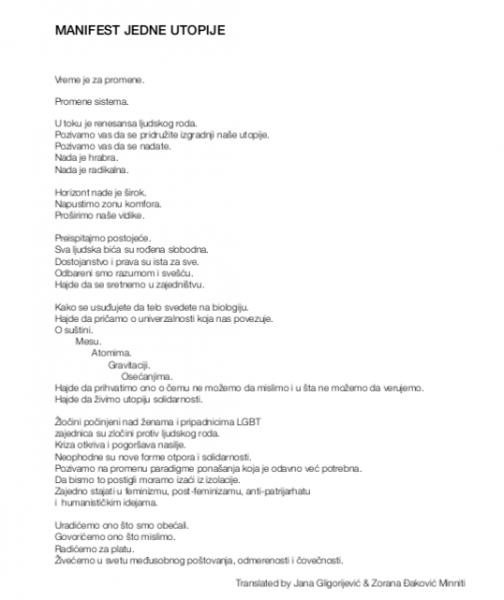 ---
2021 WOMENS DAY
UTOPIA OF A TRANSFORMATION
It's that time again: 8 March WOMEN'S DAY
Once a year, women are allowed to celebrate themselves. Privately, of course. Not free from work or obligations, women celebrate this day in silence or after work, if the family allows it.
The murders of women, called femicides (sounds a bit more scientific then) have reached a level in Austria that even astonishes people from 3rd world countries.
But in Austria they are more or less trivialised as relationship dramas, and usually a foreigner is suspected of being behind them. And women are perished, according to police jargon.
NO! Women are murdered by their partners.
NO! In Austria, partners of all kinds kill their wives, 90% of them nationals!
Ok, now for decades we have been trying to generate a sensitisation in people's thinking through a linguistic change, the gendering of language.
It's working quite well, even the public broadcaster is already talking a *.
And? Have wages gone up? Has respect for working women increased? Has society finally understood the double and triple burden on women?
NO!
The pandemic has proven that women are still underpaid and overloaded, but then have to take tease (gossiping politicians), beatings and sometimes death for it.
Now, in addition, the term classism is introduced, describing the social group that, by birth, has a hard time getting into academia or simply achieving a better life than their predecessors.
As political scientist Nancy Fraser notes, progressive neoliberalism has substituted a "winner takes it all" hierarchy for an anti-hierarchical, class-conscious and egalitarian conception of emancipation.
What is fixed is that we have some problems that are closely linked:
Femicides, racism, classism
To be honest, we will not solve these big problems with new naming, linguistic change, introduction of new isms or one day of commemoration per year.
In principle, we need a paradigm shift, a system change.
If we are not prepared to abolish social inequalities and make the pact for an equal society, we will be drawn into deeper and deeper maelstroms and our society will degenerate into an archaic "who is the strongest" culture.
Is this what we really want?
NO!
That's why curators and artists got together and continued the project WOMEN TODAY (idea Luciana Esqueda) and created the exhibition series Utopia of a Transformation.
Exactly one year ago the kick-off took place at the UNAM in Mexico City, in December 2020 the exhibition took place in 12-14 contemporary in Vienna and on 8 March 2021 the ONLINE EXHIBITION will start on fb, Instagram and our website.
More analog shows in Munich, Belgrade, Timisoara, Mexico City, Triest are planned.
The curators Luciana Esqueda (Mexico), Zorana Đaković Minniti (Serbia), Gabriel Luciani (Barcelona/USA), Audrey Dreaver (Canada/First Nation), Mirela Vladuti (Romania), Nina Holm (Germany) and I will continuously present artistic works, sound files, lectures, research texts, videos on our platforms and thus keep the discussion up to date.
NOT ONE DAY, BUT AS LONG AS IT IS NECESSARY.
In addition, we have published a MANIFEST which we recommend as a guide to living differently. (Attached)
For a better future, for system change, for paradigm shift, for HUMAN RIGHTS!
Denise Parizek / Cocurator
ARTISTS & CURATORS

Vera Klimentyeva Jelena Micić Audrey Dreaver Gabriel Virgilio Luciani Zorana Djakovic Luciana Esqueda @Mirela Vladuti Guadalupe Aldrete Paula Flores Mandarina Brausewetter Astrid Sodomka Isidora Krstic Bojana Fuzinato Nina Holm Benita Ariane Meißner Lisa Birke Tina Kult Borjana Ventzislavova Yumi Watanabe Jana Gligorijevic a.m.m.
COOPERATION with Kulturni centar Beograda
LINKS
INSTAGRAM UtopyofTransformation
---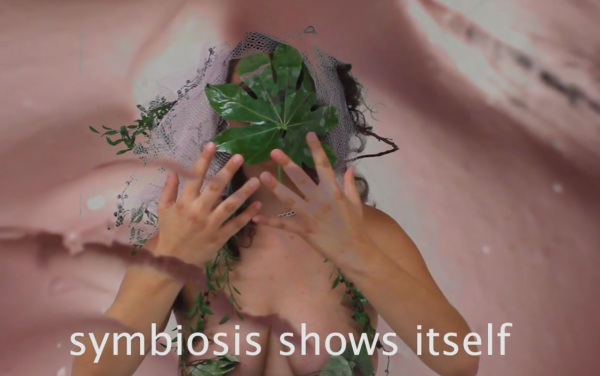 The Future of Human Nature Raechel Teitelbaum
This experimental video work, The Future of Human Nature, begins to map notions of queer ecologies and futurity through three chapters and from various angles. The three chapters, nature, of humans, and the future, each mark a period of time in humanity. The first chapter, nature, uses poetry, performance and natural and synthetic costume pieces and imagery to reveal the inherent queerness of nature, envisioning an intersection between past and present. Of humans, chapter two, merges interviews of queer-identifying people with otherworldly and plant-like imagery to explore the notion of queer consciousness for modern human beings who identify as such and it's entanglement with nature. In chapter three, we enter a new territory of projections about possible queer futures, bridging the somewhat prophetic speech of the prior voices with an imagined futuristic world in the woods, where gender, appearances and genitalia do not determine you, who you love or how you engage in the world.
The Future of Human Nature Movie
A cooperation of Raechel Teitelbaum and Gabriel Luciani
---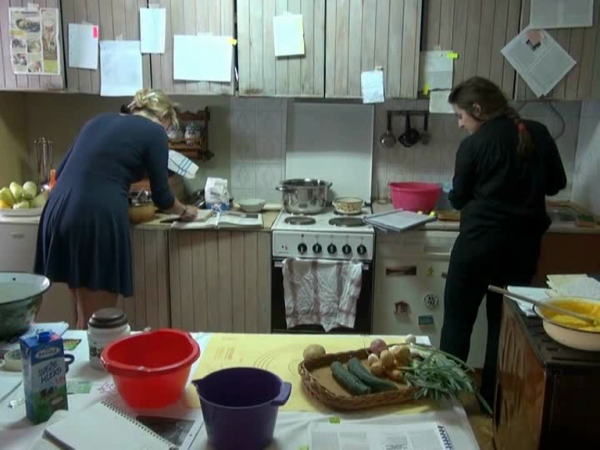 Kitchen  Bojana Fuzinato-Stamenkovic & Jelena Fuzinato
"All artists are alike.
They dream of doing something that's more social, more collaborative, and more real than art."
Claire Bishop,
Artificial Hells: Participatory Art and the Politics of Spectatorship
Can art and life be separated? Can we recognise the art in life (do we want to) or do we have to contextualise it for some greater good? Two artists in a situation of complete isolation, while the museums and the gallery are closed, the socialisation is impossible and overwhelmed by motherhood are trying to move the boundaries between the private and public agencies. They create a chaotic micro-world that only they believe in, which gives them hope that art will survive, that it is real and stronger than the reality surrounding them. The resulting turbulence and conflicting perspectives on femininity, feminist criticism, intellectual work, housework, and raising children are a homage to the performer's private and public life. The question is, where does the intertwining of such perspectives lead? Is it the resistance and persistence that keeps art in life or life in art? Is the built tension between inner and outer life threatening or promising?
Bojana Kunst, in her book Artist at Work, concludes:
"The disappearance of the border between life and work in the
late-capitalist work processes actually leads to the disappearance of possibilities for
an emancipating alliance between work and life, an alliance that can take place
through the constant politicizing of this difference that reveals the paradoxes of contemporary autonomy, the illusory possibilities of choice and self-organization ofone's life."
We can conclude that the contextualised paradox of contemporary autonomies is perhaps more realistic than art, in the way Bishop suggests.
"Audio Recording, January 2021" Is A Continuation Of The Work "Kitchen", Recorded In 2013 And A Sort Of Sketch For The Future Version Of This Performance. Audio Recordings Are Samples From Everyday Life (Cooking, Pumping Milk, Washing Dishes, Making Coffee, Taking Care Of Children), And Simultaneously Focusing On Gender Issues. These Passages Of Those Moments Of Life That Are Determined By Biology And Social Construction Are Enhanced By Reading Quotations From The Following Sources: Judith Butler, Notes Toward A Performative Theory Of Assembly, Usa, Harvard University, 2018; Beatrice Von Bismarck, Benjamin Mayer-kahmer, Cultures Of The Curatorial 3 / Hospitality: Hosting Relations In Exhibitions, Potsdam, 2016; Bojana Kunst, Artist At Work, Proximity Of Art And Capitalism, Winchester And Washington, 2015; Griselda Pollock, Vision And Difference: Feminism, Femininity And Histories Of Art, London And New York, 2003; Griselda Pollock, Encounters In The Virtual Feminist Museum: Time, Space And The Archive, London And New York, 2007; Maura Reilly, Curatorial Activism: Towards An Ethics Of Curating, London 2018; Berger, John, Why Look At Animals? Penguin, 2009: Hanna Arendt, Totalitarizam, Artprint Novi Sad 2013; Zaharijević, Adriana, Ko je pojedinac?: Genealoško propitivanje ideje građanina. Karpos, 2014; Stokowski, Margarete, Untenrum frei. Rowohlt Taschenbuch Verlag, 2018; Woolf, Virginia, and Barrett Michèle, A Room of One's Own; and, Three Guineas. Penguin Classics, 2019; Acaso, María, "From Art Education To Art Education: Making The Education Revolution Into The Visual Arts Teaching Arena." Wat's Next? Ein Reader, edited by Torsten Meyer, and Gila Kolb.Koaped Verlag, München, 2015; Hormann, Elizabeth, and Guóth-Gumberger Márta, Stillen. GRÄFE UND UNZER Verlag GmbH, 2014.
Berlin/Hamburg, 25 Januar 2021
---
Femkanje Spaces of Togetherness
Sound Installations
---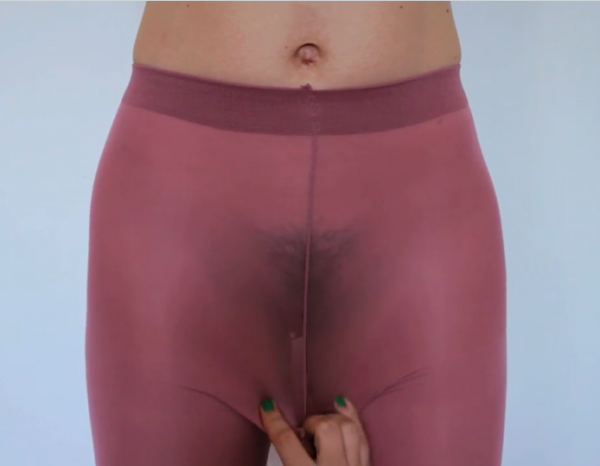 pink&green Astrid Sodomka
Video, 49 sec /  2013
Two bodies, hosiery, white background, camera & tripod.
The hand holds tight and pulls. The body holds against it.
---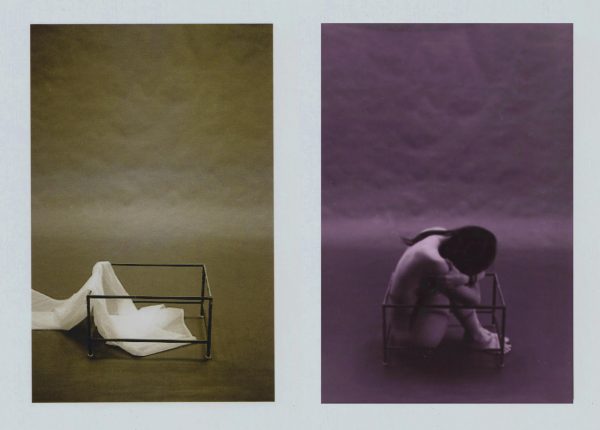 Insight/Inside  (2005) Yumi Watanabe
C-print / 40cmx50cm
Made 15 years ago before coming to Europe, Japan I left was still a very male dominated society. I had faced many harassment as a young female coming out of art school into a male dominated world of art.
I felt that my body was restrained and that the white fabrics was the metaphor for my way out of the restrained society of structures dominated by male.
---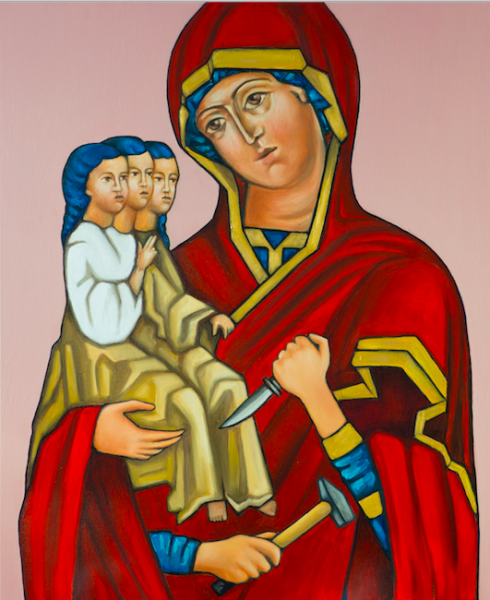 Khachaturian Madonna"  Vera Klimentyeva
Icon
Three elementary pillars of every person and every society are politics, religion and sexuality. Each of these pillars is an indicator of the openness of a society.The freedom with which art is allowed to deal with controversial issues is at the same time the mirror of a state. The state which is particularly in focus in Da, Papa is Russia. Governed by Vladimir Putin, homosexuality is suppressed by law in the largest country in the world, PornHub is blocked and dating apps like Tinder pass on information to the secret services. In addition, since the end of the Soviet Union, the Russian Orthodox Church has regained a higher social status. The state promotes this significantly through legislation, which was drastically tightened especially after the rise of the "Pussy Riot" movement to protect the faith and the church.One case that has divided the country since 2018 is the murder of their father by the Khachaturian sisters after years of abuse. For some an act of self-defence in a hopeless situation, for others a devious crime. With her "Khachaturian Madonna" Klimentyeva takes up this conflict.Depicted in the pictorial language of a traditional icon with three hands, Mary carries the Khachaturian Sisters in her arms instead of Christ, in the other two hands she holds a hammer and knife. This controversial work symbolizes on the one hand the powerlessness and inability of the mother to protect her own children, and on the other hand the sisters' elevation from parts of society to icons of feminine self-determination.
Jan Gustav Fiedler / Curator 2020
---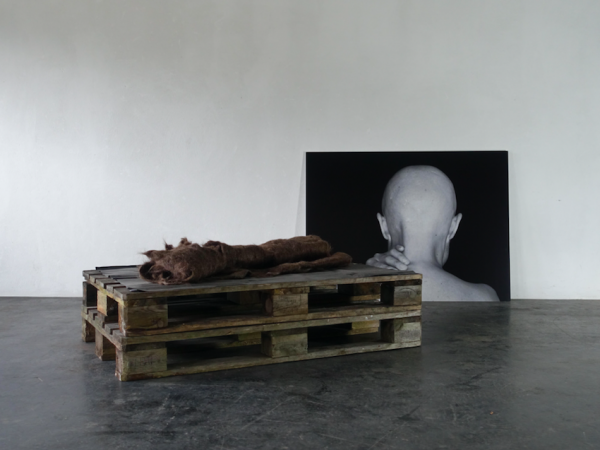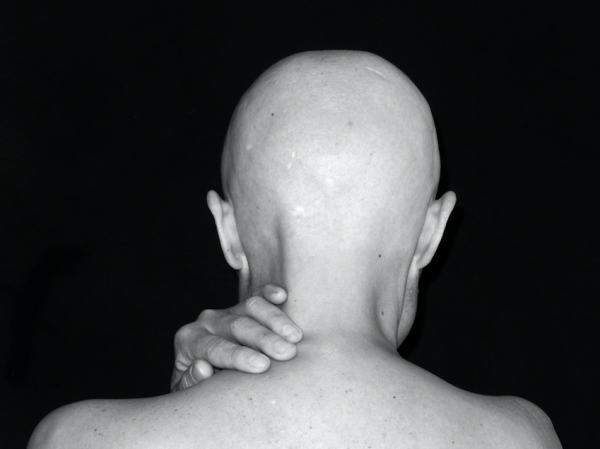 LOST AUTHENTICITY  Eva Maria Schartmüller
Fotografie / schwarz-weiß / C-Print / Matte aus menschlichem Haar Photography / black-white / C-Print / felted human hair mat
Hair, female splendor, charged with sexuality and beauty. Bald heads, symbols of rights, hooligans, agitators. But bald heads are also the symbol of prisoners, oppressed people in camps. Shaving off the main hair is still considered as a political instrument of degradation, used by all institutions that seek the total loss of personality – from concentration camps to the army. Bald heads are also indications of diseases.
Therefore, bald heads can also cause pity or hatred and fear.
Revolutions have already taken place on hair, hair as a symbol of freedom and equality.
Eva Maria Schartmüller's artwork LOST AUTHENTICITY works through the various approaches and leaves us with a reduced, sober black and white photo of a bald female skull from behind.
Like a fetish, a rolled-up rug, a mat felted from human hair, lies next to the photo, as if fallen out of the picture.
Head and hair have been isolated from each other, what originally belongs together falls apart. The combination testifies loss, suppression, de-individualization.
With the loss of authenticity, the human being loses both dignity and roots, a trauma emerges. Standardization becomes legitimate under the guise of globalization, individualization gives way to a twisted idea of nationalism.
Denise Parizek 2021
---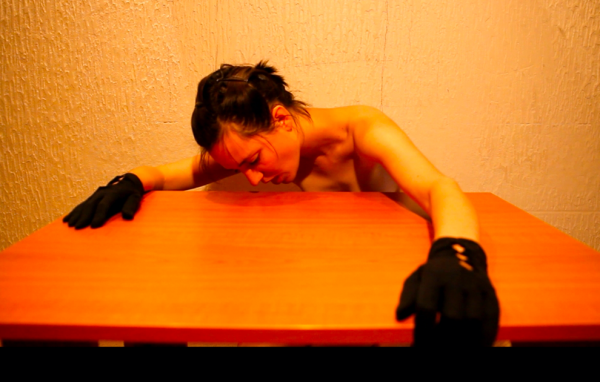 The Surplus Antonia Božanić 


video / 8' 40" / 2014
The Surplus shows a female person (the artist) as she is licking the surface of a table. Referring to a variation of BDSM (Bondage/Discipline, Sadism/Masochism), domination and submission, the artist places herself in the position of a submissive, where she gives control to the dominant in the ritualized act of sharing power. Since the figure to be obeyed is not physically present or we do not see them, the work also speaks of the relationship between desires and expectations. Namely, bearing in mind that the work was created during her master's academic studies, the act of the author, i.e., the video performance, in this sense, can also be understood as a desire to "obey", i.e., to adapt to the professional criteria set by the institution, in fact, by the professors.
"When I bring to mind the act of licking the surface of the table, I remember my masochistic desire to be subjugated and controlled. Performing this twisted action made the taste of senselessness sweeter. The feelings of misunderstanding and hopelessness were not something I would resist, but something I was completely at peace with. And more than that, something I liked and loved." (A. Božanić, Catalogue of the 56th October Salon).
Over time, in the action she performed, the author has recognized the part of herself that needs integration. In this sense, the work also draws attention to the fact that coping with problems is an individual process, but that changes occur only in the relationship between the individual and the world.
Courtesy October Salon Collection, Belgrade
---
1st of May 1977  Dejan Kaludjerovic
two-channel sound installation / 13'15" / 2014
It is a deconstruction of a family film depicting an act of violence whose cause remains unknown. It focuses on a scene where a boy is throwing a rock at a girl. The artist analyses the event from his early childhood and invites his family members to recall the event.
The original recording was divided and transferred onto 29 slides, which are repeated every four minutes, thus emphasizing the scene of violence and extending its duration. The other important segment of the installation is audio recording, the testimonies of the eyewitnesses (family members), who are talking about the event that took place in 1977. The differences in their statements testify to the subjective nature of memories and observations, which becomes evident to the viewers themselves in the process of understanding the work. The work was presented in two separate rooms: in one, audio-recordings of the eyewitnesses' testimonies were heard, and in the other, the picture of the act of violence was shown. In this way, the artist leaves room for each viewer individually to create their own parallel scenario of the event – which itself is disputable.
Courtesy October Salon Collection, Belgrade
---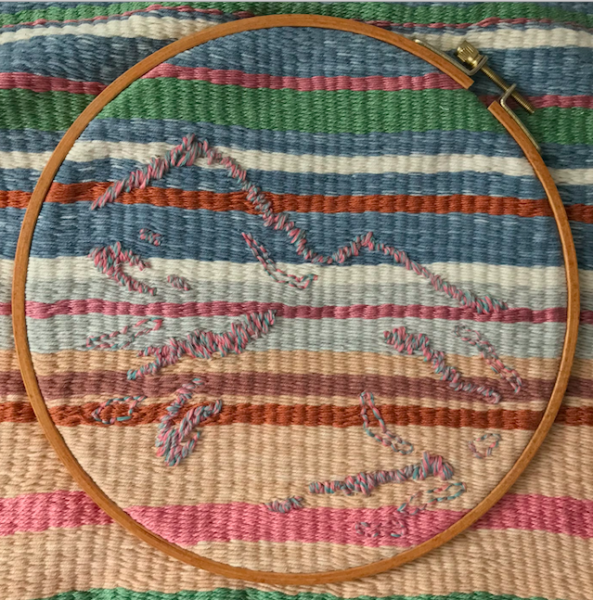 virdzina /private /or public Bojana Stamenkovic
Can art and life be separated? Can we recognise the art in life (do we want to) or do we have to contextualise it for some greater good? The question is, where does the intertwining of such perspectives lead? Is it the resistance and persistence that keeps art in life or life in art? Is the built tension between inner and outer life threatening or promising?
In my search for finding my private and public life, noticing the vague boundaries that art creates, I recognize the notion of the Virdzina phenomenon.
The term "Virdžina"(Virgin) appears in my life at the end of the last century, getting to know the film of the director Srdjan Karanovic, filmed in 1991 in Yugoslavia. The story describes Stevan, a young heir of a family who is lured by the fact that there are too many female children. Stevan's own family condemns him to live as a boy, although he was born as a girl. His family is actually followed by the custom of "swearing virgins" ("virgin" or "tobelia") to avoid condemnation of society because it has exclusively female offspring. There are various reasons for becoming Virginia, and the Stevan case from the mentioned film is just one of them. It can also be from purely personal incentives, in the case when young girls do not have the identity of the sex and the gender with which they were born. In all these cases, I analyze the patriarchal situation in the mountainous rural areas of the Balkans: Northern Albania, Kosovo and Montenegro, for which Virdzina's phenomenology is linked. Very hilly, inspiring to watch, difficult to live in, where women's jobs are weaving and embroidery, and their area is home and private spheres.
---