Villa Farsetti
There is a crack in everything. That's how the light gets in.
C'è una crepa in ogni cosa. È così che entra la luce.
Leonhard Cohen

Santa Maria di Sale / Venetien / Italia
Vernissage 20.5.2023
Duration 21.05. – 08. 06. 2023
Guadalupe Aldrete * Mila Balziehva * Cristina Calderoni * Chiara Campanile * Natalia Gurova * Paula Flores * Carla Fausti & Paula Linda Sabbati *
Bojana Fuzinato-Stamenkovic * Àgnes Hamvas * Isidora Krstic *
Vera Klimentyeva * Natalia Papaeva * Eva-Maria Schartmüller *  Gabriel Luciani * Markus Guschelbauer * Werner Jakits * Marko Markovic *
Rafael Lippuner *
Opening Performance  Laura Rambelli
Opening MOVIE by Werner Jakits * Mani Hofer ( Musiker)
Kuratiert von Laura Rambelli & Denise Parizek
Unterstützt durch Marino Zancarella, Laboratorio Venezia, Luxoria Light Company, ACF Milano
In Kooperation mit Villa Farsetti, Marino Zancarella, 18. Architekturbiennale Venedig 2023, Laboratorio Venezia, Luxoria Light Company, ACF Milano
---
Es kracht im Gebälk. Die apokalyptischen Reiter sind unterwegs. Trotzdem sieht der Mensch immer noch ein Licht der Hoffnung. Wegen des Risses in jeder Mauer, der Licht durchlässt. Evolution oder Hybris?
I know that for thirty years now we have been looking for ways to get out of postmodernity above or below or behind and into this present….The belief that the world used to be more manageable has always been a bogus narrative. For it was only so straight because it was viewed from a single social and global position (you know which)?
"So che da trent'anni a questa parte stiamo cercando il modo di uscire dalla postmodernità sopra o sotto o dietro e di entrare in questo presente…. La convinzione che il mondo fosse più gestibile in passato è sempre stata una narrazione fasulla. Perché era così rettilineo solo perché era visto da un'unica posizione sociale e globale, (sapete quale)?"
Kim de l ́Horizon
The answer we can give, with all the wars, earthquakes, pandemics, is that we will only survive together. We need more utopia and perhaps also magic in the world.
That is why we have decided to organise a cross-border exhibition with artists from Mexico, Ukraine, Italy, Croatia, Serbia, Austria, the Republic of Buratia, Russia and Spain/USA in the Villa Farsetti, on the occasion of the 18th Architecture Biennale in Venice, to show how diverse the Viennese art scene is. Origin, sexual orientation and religion do not matter at all, we are working together on a utopian model for our future.
"The eradication of these practices (witchcraft and magic) was a necessary precondition for the capitalist rationalisation of labour, because magic appeared as an illicit form of power and as a means to obtain what one desired without work: It was thus practical refusal of labour. "Magic kills industry" complained Francis Bacon."
La risposta che possiamo dare, con tutte le guerre, i terremoti, le pandemie, è che sopravviveremo solo insieme. Abbiamo bisogno di più utopia e forse anche di magia nel mondo.
Per questo abbiamo deciso di organizzare una mostra transfrontaliera con artisti provenienti da Messico, Ucraina, Italia, Croazia, Serbia, Austria, Repubblica di Buriazia, Russia e Spagna/USA a Villa Farsetti, in occasione della 18a Biennale di Architettura di Venezia, per mostrare quanto sia variegata la scena artistica viennese. Origine, orientamento sessuale e religione non hanno alcuna importanza, stiamo lavorando insieme a un modello utopico per il nostro futuro.
"L'eliminazione di queste pratiche (stregoneria e magia) era una condizione necessaria per la razionalizzazione capitalistica del lavoro, perché la magia appariva come una forma illecita di potere e come un mezzo per ottenere ciò che si desiderava senza lavorare: Si trattava quindi di un rifiuto pratico del lavoro. "La magia uccide l'industria", lamentava Francis Bacon".
Silvia Federici
How dare we reduce the body to biology?
Let's talk about the commonalities, the universalism that connect us, like bone marrow, flesh, atoms, gravity, affect. 
If we can understand the body in terms of its affectivity, vulnerability, fragility, sensitivity, corporeality, we can come closer to a deeper understanding of our manifestations. Empathy can be derived from understanding, but not on a biological-scientific level that wants to expose and reveal, but on a path of accepting the improbable, the inexplicable, the without coordinates. We, social beings, will come out of ourselves to find real existence in each other.
Come osiamo ridurre il corpo alla biologia?
 Parliamo dei punti in comune, dell'universalismo che ci unisce, come il midollo osseo, la carne, gli atomi, la gravità, gli affetti. 
Se riusciamo a comprendere il corpo in termini di affettività, vulnerabilità, fragilità, sensibilità, corporeità, possiamo avvicinarci a una comprensione più profonda delle nostre manifestazioni. L'empatia può derivare dalla comprensione, ma non su un piano biologico-scientifico che vuole esporre e rivelare, bensì su un percorso di accettazione dell'improbabile, dell'inspiegabile, del senza coordinate. Noi, esseri sociali, usciremo da noi stessi per trovare la vera esistenza nell'altro.
The artistic approaches are very different, as are the media used to visualise utopia and dystopia. Our goal is to regain the ability to survive together, to sustainable social change and system change. In our curatorial decisions, we try to present as many themes as necessary to initiate a broad discussion and hopefully a subsequent paradigm shift.
We invite you to hope. Hope is bold, hope is radical.
Gli approcci artistici sono molto diversi, così come i media con cui vengono visualizzate utopia e distopia. Il nostro obiettivo è quello di ritrovare la capacità di sopravvivere insieme, di cambiare in modo sostenibile la società e il sistema. Nelle nostre scelte curatoriali, cerchiamo di presentare il maggior numero di temi necessari per avviare un'ampia discussione e, auspicabilmente, un successivo cambiamento di paradigma.
Vi invitiamo a sperare. La speranza è audace, la speranza è radicale.
---
GUADALUPE ALDRETE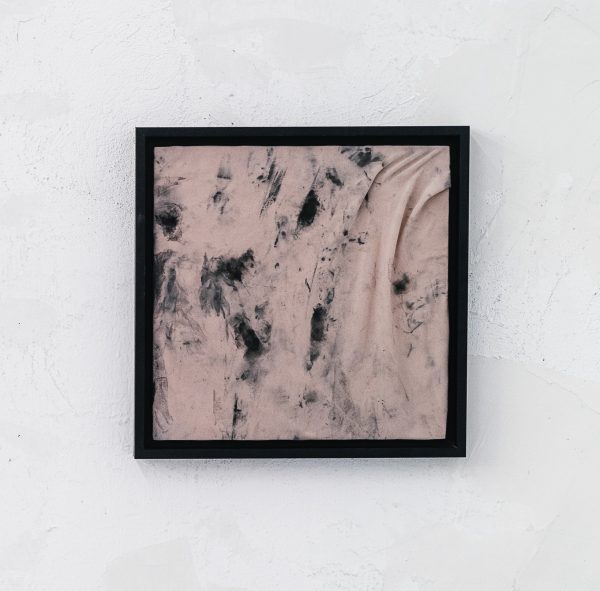 MILA BALZHIEVA
I HAVE WHAT I HAVE
Installation, textile, digital prints, brass, 2022
While sleeping, we need a safe space to be protected physically and spiritually, especially when sleeping in a new, unfamiliar place. This sleeping unit represents my vision of finding a safe, intimate space.
I surround myself with familiar things; I bring photos to remind me of my land. Maybe I can travel there in my dreams.
The sound of the little bells will protect me from evil spirits and nightmares.
I find how to get to the point of comfort to recharge and stabilize. I am building my new home.
Quando dormiamo, abbiamo bisogno di uno spazio sicuro per essere protetti fisicamente e spiritualmente, soprattutto quando dormiamo in un luogo nuovo e sconosciuto. Questa unità di sonno rappresenta la mia visione di trovare uno spazio sicuro e intimo.
Mi circondo di cose familiari, porto con me foto che mi ricordano la mia terra. Forse posso viaggiare lì nei miei sogni.
Il suono delle campanelle mi proteggerà dagli spiriti maligni e dagli incubi.
Trovo il modo di raggiungere il punto di conforto per ricaricarmi e stabilizzarmi. Sto costruendo la mia nuova casa.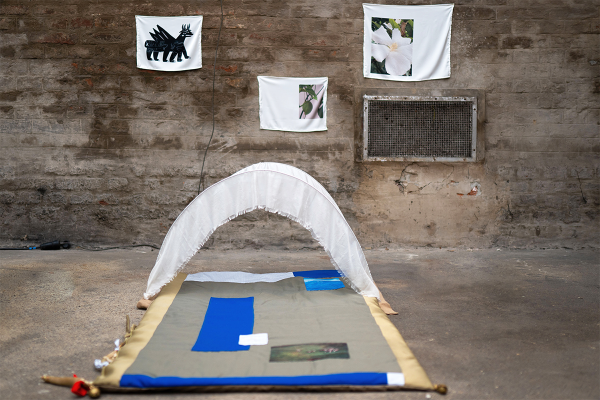 CRISTINA CALDERONI
Lovestory 2020/21
315 x 325cm
Collage, industrial waste of fabric
sponsored by Lanificio Paoletti
Courtesy by the artist
Curtains are visible from the outside and create a connection between inside and outside. With their thin layer of fabric, they separate our home from the rest of the world, acting as an eyelid for the home. Curtains are also how we choose to frame our view of the world outside the window, and they say a lot about our personality, tastes, and social status.
Lovestory creates a temporary but flexible space. Although the word tape is generally associated with the concept of repair, here it is understood as a constructive tool; an impermanent glue that can form a structure. The installed fabrics allow light to filter through their different thicknesses and transparencies, transforming the space into a shelter, or a temporary home.
The wool scraps used were donated by Lanificio Paoletti, located in Follina, Italy. Each piece of fabric provided retains its own specific identity, linked to the manufacturing process, the stage of production and the specific historical context in which it was conceived. Each remnant of fabric is therefore imbued with its own memory.
One of the fabrics is characterized by long threads connecting two finished pieces of fabric. These threads are the consequence of pauses during the weaving of the fabric itself, becoming a visible metaphor for relationships, in which silence, exchange, dialogue and distance are visually materialized.
Le tende sono visibili dall'esterno e creano un collegamento tra interno ed esterno. Con il loro sottile strato di tessuto, separano la nostra casa dal resto del mondo, fungendo da palpebra per l'abitazione. Le tende sono anche il modo in cui scegliamo di inquadrare la nostra visione del mondo fuori dalla finestra e dicono molto della nostra personalità, dei nostri gusti e del nostro status sociale. Lovestory crea uno spazio temporaneo ma flessibile. Sebbene la parola nastro adesivo sia generalmente associata al concetto di riparazione, qui è intesa come uno strumento costruttivo; una colla impermanente che può formare una struttura. I tessuti installati permettono alla luce di filtrare attraverso i loro diversi spessori e trasparenze, trasformando lo spazio in un rifugio, o in una casa temporanea. Gli scarti di lana utilizzati sono stati donati dal Lanificio Paoletti di Follina, in Italia. Ogni pezzo di tessuto fornito conserva una propria identità specifica, legata al processo di lavorazione, alla fase di produzione e allo specifico contesto storico in cui è stato concepito. Ogni scampolo di tessuto è quindi intriso di una propria memoria.
Uno dei tessuti è caratterizzato da lunghi fili che collegano due pezzi di tessuto finiti. Questi fili sono la conseguenza di pause durante la tessitura del tessuto stesso, diventando una metafora visibile delle relazioni, in cui silenzio, scambio, dialogo e distanza si materializzano visivamente.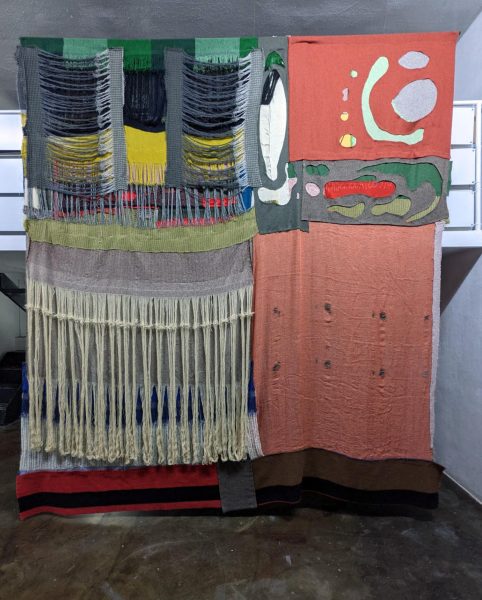 CHIARA CAMPANILE
RISK
2021, tulle, 230×160 cm
This work is created by overlapping different layers of tulle. The title Risk is a reference to the universally known board game, each layer represents an imaginary country, the countries overlap and keep their color, their independence in a new found harmony.
Quest'opera è realizzata sovrapponendo diversi strati di tulle. Il titolo Risk è un riferimento al gioco da tavolo universalmente conosciuto, ogni strato rappresenta un paese immaginario, i paesi si sovrappongono e mantengono il loro colore, la loro indipendenza in una nuova armonia.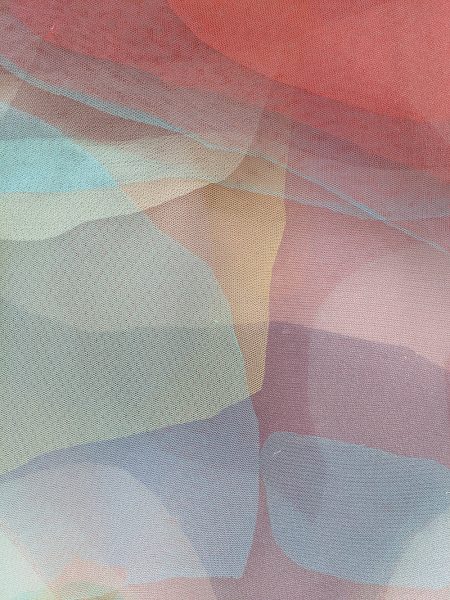 CARLA FAUSTI & PAULA LINDA SABBATI
CATHAR(C)TIC
Cathar(c)tic is an audiovisual project created by a female collective, composed of flutist Laura Trainini, pianist Elisabetta Marcolini, performance photographer Paola Linda Sabatti and documentary anthropologist Carla Fausti.
The intent, expressed through the dual medium of music, amplified by videographic images, is to emphasise the cathartic role of art and its founding value in human society. The central theme that allows the transmediality of the project is madness, a red thread that links the sound medium to the visual one and on which the filmic images are built, in black and white, inspired by the structure of the pieces and the states of mind that arise from them.
The piece presented here is Wild Riot of the Shaman's Dreams by Michael Colgrass, on which Paola Linda Sabatti and Carla Fausti have created a 'video dance' set at the Botticino quarries. A parallelism emerges between being 'beyond' in the shamanic magical-ritual dimension (explicitly recalled by the musical piece for solo flute) and the sense of alienation provoked by the current pandemic experience, but with the idea that art and, in this specific case, the musical and audiovisual experience can act as a cathartic element of expiation and liberation.
The peculiar context of the marble quarries, a natural setting with a strong formal and emotional impact, suggested some particular declinations on the theme of madness: the obsession represented by the labyrinth, the abyss, constraint and the need for freedom.
The protagonist of the performance is a female figure, an alter ego of the musician, who moves among the marble of the quarry. She is immersed in wide, rarefied, surreal spaces. She searches for a gap between the tight blocks of the labyrinth, a metaphor for oppressive thoughts; she turns on herself and then runs into the distance, immersing herself in the dazzling whiteness of the marble. A body constricted within narrow, asphyxiating, dark spaces; repetitive, obsessive movements; slow walks followed by runs towards the precipice and then towards the open, immense space, towards the light. Long fields alternate with
details of the hands, the face, the decomposed body. Diagonal cuts, blurs, slow motion, fields and counter-fields contribute to create alienating images.
Cathar(c)tic è un progetto audiovisivo nato da un collettivo femminile, composto dalla flautista Laura Trainini, dalla pianista Elisabetta Marcolini, dalla fotografa performer Paola Linda Sabatti e dall'antropologa documentarista Carla Fausti.
L'intento, espresso con il duplice mezzo della musica, amplificata da immagini videografiche, è quello di sottolineare il ruolo catartico dell'arte e il suo valore fondante nella società umana. Tema centrale che permette la transmedialità del progetto è la follia, filo rosso che collega il medium sonoro a quello visivo e su cui sono costruite le immagini filmiche, in bianco e nero, ispirate alla struttura dei brani e agli stati d'animo che ne scaturiscono.
Il brano qui presentato è Wild Riot of the Shaman's Dreams di Michael Colgrass, sul quale Paola Linda Sabatti e Carla Fausti hanno creato una "video danza" ambientataalle cave di Botticino. Ne emerge un parallelismo tra l'essere "oltre" nella dimensione magico-rituale sciamanica (richiamata esplicitamente dal brano musicale per flauto solo) e il senso di alienazione provocato dall'attuale esperienza pandemica, ma con l'idea che l'arte e, in questo caso specifico, che l'esperienza musicale e audiovisiva possano fungere da elemento catartico di espiazione e liberazione.
Il peculiare contesto delle cave di marmo, scenografia naturale di forte impatto formale ed emotivo, ha suggerito alcune particolari declinazioni sul tema della follia: l'ossessione rappresentata dal labirinto, il baratro, la costrizione e il bisogno di libertà.
Protagonista della performance è una figura femminile, alter ego della musicista, che si muove tra i marmi della cava. È immersa in ampi spazi materici, rarefatti, surreali. Cerca un varco tra i blocchi serrati del labirinto, metafora dei pensieri opprimenti; gira su se stessa e poi corre in lontananza immergendosi nel candore abbagliante del marmo. Un corpo costretto entro spazi angusti, asfissianti, bui; movimenti ripetitivi e ossessivi; camminate lente seguite da corse verso il precipizio e poi verso lo spazio aperto, immenso, verso la luce. Campi lunghi si alternano a
dettagli delle mani, del volto, del corpo scomposto. Tagli diagonali, mossi, sfuocature, rallenty, campi e controcampi, contribuiscono a creare immagini alienanti.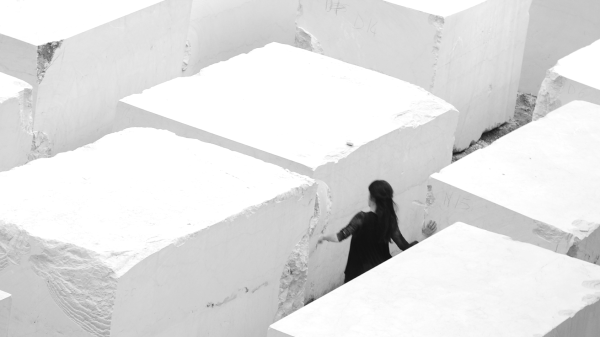 PAULA FLORES
Installation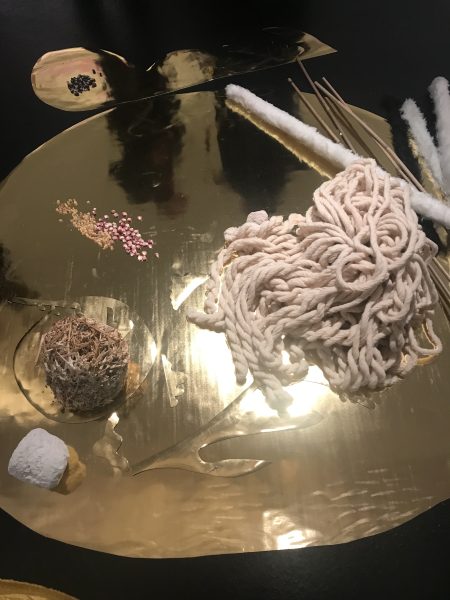 NATALIA GUROVA
The project that draws inspiration from Heracleum Sphondylium. Two of many invasive species that threaten the balance of the European ecosystem. Specifically, Natalia focuses on the appearance of Heracleum commonly called Giant Hogweed which is an impressive-looking plant yet potentially toxic as its sap can cause photodermatitis or photosensitivity. The choice to deal with these plants was coincidentally organic as we have both seen these plants in Europe, Austria and in the Russian steppe respectively. Upbringing of these alien species and their biological kineses highlights accidental but intriguing historical parallels and reflects the current geopolitical state on a global scale. The purpose of the work is to open a dialogue for urgency, exercise criticism, and question legitimacy, power, and conquest/intrusion while simultaneously allowing issues of identity and immigration to preserve.
Il progetto che trae ispirazione dall'Heracleum Sphondylium. Due delle tante specie invasive che minacciano l'equilibrio dell'ecosistema europeo. Nello specifico, Natalia si concentra sull'aspetto dell'Heracleum, comunemente chiamato Giant Hogweed, una pianta dall'aspetto imponente ma potenzialmente tossica, in quanto la sua linfa può causare fotodermatite o fotosensibilità. La scelta di occuparsi di queste piante è stata una coincidenza organica, poiché entrambe abbiamo visto queste piante in Europa, in Austria e nella steppa russa rispettivamente. L'allevamento di queste specie aliene e le loro cinesie biologiche evidenziano paralleli storici accidentali ma intriganti e riflettono l'attuale stato geopolitico su scala globale. Lo scopo dell'opera è quello di aprire un dialogo sull'urgenza, esercitare una critica e mettere in discussione la legittimità, il potere e la conquista/intrusione, consentendo allo stesso tempo di preservare i temi dell'identità e dell'immigrazione.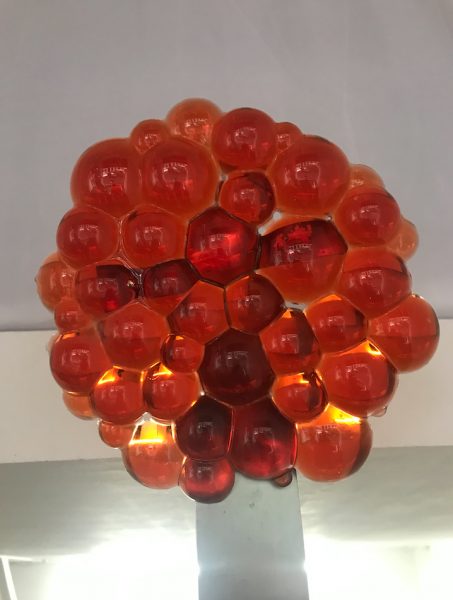 MARKUS GUSCHELBAUER
Photography
RAFAEL LIPPUNER
«Trajectories» is a photographic essay into movement and the narrative created by an image. Ephemeral moments and their momentum are the speakers. Facing a static structure, the proposition of the moving elements remain ambiguous, its vectors and trajectory have to be completed by thought. The casual, symbolic or revolutionary element of action supports the emergence of gesture itself. The things in motion take on their own agency, turning into objects of their own.
"Traiettorie" è un saggio fotografico sul movimento e sulla narrazione creata da un'immagine. I momenti effimeri e il loro slancio sono i protagonisti. Di fronte a una struttura statica, la proposizione degli elementi in movimento rimane ambigua, i suoi vettori e la sua traiettoria devono essere completati dal pensiero. L'elemento casuale, simbolico o rivoluzionario dell'azione sostiene l'emergere del gesto stesso. Le cose in movimento assumono un'agenzia propria, trasformandosi in oggetti propri.
Trajectories (Centre practice) 1-3 / 2023
Photography, Carpet print
150 x 200 cm each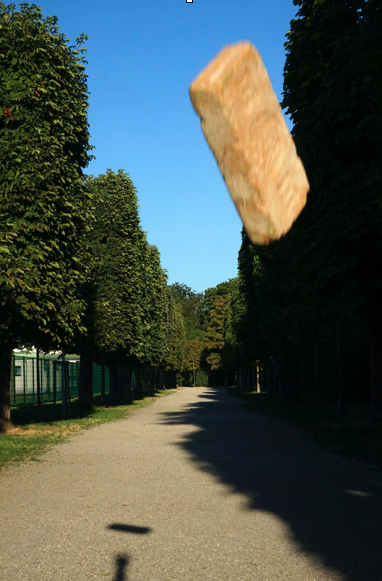 pavo real / 2021
Nackter, ausgestopfter Pfau, montiert auf Carrara Marmorsockel
73 x 20 x 20 cm
Unikat
For me, Pavo real is a sculpture that implies abuse of power. Formally, this work is irritating: the bird looks like a somewhat too thin turkey, naked, defenceless, stuffed and with a neat crown of feathers, standing on very opulent marble. The durable, somewhat brittle authenticity of the bird – rather gruesome at first glance – nevertheless radiates self-assurance and pomp.
I had my first thoughts about this work in 2017, when a young politician moved to the top in Austrian politics. I did not think that the young generation would fundamentally lack credibility, but I was thoroughly sceptical about this person. I couldn't get Hans Christian Andersen's "The Emperor's New Clothes" out of my head, the story of the emperor who fell for swindlers and had the most beautiful, expensive clothes woven for himself – but without a single thread used. His followers played along with the game of the handsome (but in fact stark naked) emperor until the comment of a small child – "he's naked" – put an end to the farce. In the real world, the bruised emperor is the aspiring politician who fancied himself in dubious splendour, let his advisory entourage earn money along the way and (co-)played a game that questioned his integrity from the start. In his own imagination as well as in the imagination of his followers, he was a colourful, dazzling peacock. In fact, he was only a crude "naked" version of himself.
In the meantime, there are several people on the national and international stage who can be associated with the naked peacock. There is a timelessness to the pavo real that can be transferred individually – and with a wink – to real people in the political arena.
Since 2017, I have been busy with the idea of the plucked, stuffed peacock. How can the project be realised? Where would I get a dead peacock? Who would stuff it for me, but pluck it first?
A few phone calls, e-mails, research, rejections and two years later I got in touch with the taxidermist Helmut Raith in Vienna's Margareten district, one of the last masters of his trade. He wasn't keen on the idea at first, but wasn't completely averse to it either, always open to the unusual – after almost three years of waiting and continuous cooperation, I was able to pick up pavo real in autumn 2021 and show it to a larger audience in my exhibition "overrun +" in the Jan Arnold Gallery in the MuseumsQuartier. Barbara Beer wrote about it in the Kurier on 8 May 2022 – "Two weird birds and a naked peacock".
Per me, Pavo real è una scultura che implica un abuso di potere. Formalmente, quest'opera è irritante: l'uccello sembra un tacchino un po' troppo magro, nudo, indifeso, impagliato e con un'ordinata corona di piume, in piedi su un marmo molto opulento. L'autenticità durevole e un po' fragile dell'uccello – piuttosto raccapricciante a prima vista – irradia tuttavia sicurezza e sfarzo.
Ho pensato per la prima volta a quest'opera nel 2017, quando un giovane politico è salito ai vertici della politica austriaca. Non pensavo che la giovane generazione mancasse fondamentalmente di credibilità, ma ero assolutamente scettico su questa persona. Non riuscivo a togliermi dalla testa "I vestiti nuovi dell'imperatore" di Hans Christian Andersen, la storia dell'imperatore che cadde per i truffatori e si fece confezionare i vestiti più belli e costosi, ma senza usare un solo filo. I suoi seguaci stavano al gioco dell'imperatore bello (ma in realtà nudo) finché il commento di un bambino – "è nudo" – mise fine alla farsa. Nel mondo reale, l'imperatore ammaccato è l'aspirante politico che si è fatto credere in un dubbio splendore, ha lasciato che il suo entourage di consulenti guadagnasse soldi lungo la strada e ha (co)giocato un gioco che ha messo in dubbio la sua integrità fin dall'inizio. Nella sua immaginazione e in quella dei suoi seguaci, era un pavone colorato e abbagliante. In realtà, era solo una rozza versione "nuda" di se stesso. Nel frattempo, ci sono diverse persone sulla scena nazionale e internazionale che possono essere associate al pavone nudo. C'è un'atemporalità nel pavo reale che può essere trasferita individualmente – e con una strizzatina d'occhio – a persone reali nell'arena politica.
Dal 2017 sono impegnato nell'idea del pavone spennato e impagliato. Come si può realizzare il progetto? Dove posso trovare un pavone morto? Chi lo impaglierebbe per me, ma prima lo spennerebbe?
Alcune telefonate, e-mail, ricerche, rifiuti e due anni dopo mi misi in contatto con il tassidermista Helmut Raith del quartiere Margareten di Vienna, uno degli ultimi maestri del suo mestiere. Dopo quasi tre anni di attesa e di continua collaborazione, nell'autunno del 2021 sono riuscita a prelevare il pavo vero e proprio e a mostrarlo a un pubblico più vasto nella mia mostra "overrun +" nella Jan Arnold Gallery del MuseumsQuartier. Barbara Beer ne ha scritto sul Kurier dell'8 maggio 2022 – "Due strani uccelli e un pavone nudo".
huberthasler @instagram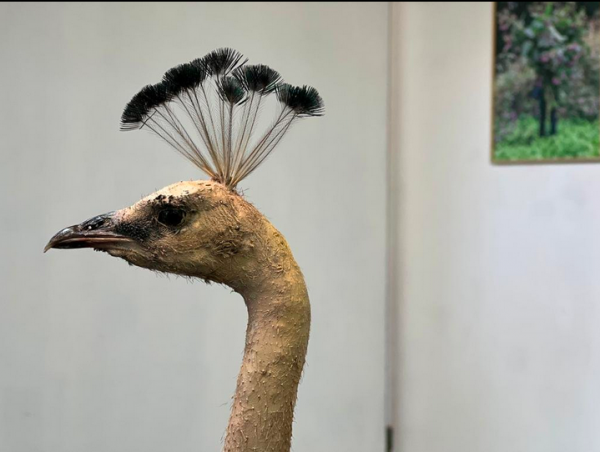 WERNER JAKITS
Tumbling Dice Movie Screening
Regie Werner
Jakits Musik Mani Hofer
CAST
Christine Jägersberger, Julia Pollak, Mila Petrovic, Leonie Rabl Felix Dennhardt, Sascha Petrovic, Florian Rötel,
Florentiner Scheicher
In the first part, Tumbling Dice – The Interviews, Werner Jakits locates the background of his story in the years 1970 – 1982, through interviews with Jean Pierre Melville, Angela Davis and Dennis Hopper. They are brought from the past into the present with the classic Driver, an homage to "Driver" by Walter Hill. These 3 personalities are interpreted by silent actors. The interviews exude a timeless relevance. The basic themes resonating with Melville such as isolation, friendship, lone wolves emerge in Jakit's narrative. Failure is implicit in the heroes, outsiders on a quest, between past and present.
Nella prima parte, Tumbling Dice – Le interviste, Werner Jakits colloca lo sfondo della sua storia negli anni 1970-1982, attraverso interviste a Jean Pierre Melville, Angela Davis e Dennis Hopper. Questi vengono portati dal passato al presente con il classico Driver, un omaggio a "Driver" di Walter Hill. Queste tre personalità sono interpretate da attori muti. Le interviste emanano un'attualità senza tempo. I temi fondamentali che risuonano con Melville come l'isolamento, l'amicizia, i lupi solitari emergono nella narrazione di Jakit. Il fallimento è implicito negli eroi, outsider in ricerca, tra passato e presente.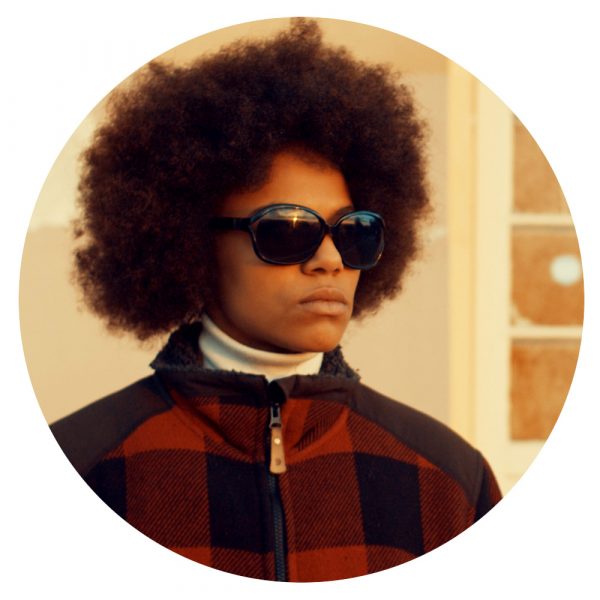 MARKO MARKOVIC
The instinct for survival brought about by self-determination forms a common experience of beings living together under extreme living conditions, displaced and resettled from their natural environment into the uncertainty of an alien landscape. The performativity in Marković's work defines the attempt to exist in different places at the same time, in parallel worlds that merge in the space of socio-political relations, vague intimacies and hidden, invisible insincerities. In the mixture of these worlds, the psycho-physical transformations between thoughts, memories, bodies, reality and imagination change the perception and experience of what identity is or can become.
L'istinto di sopravvivenza che deriva dall'autodeterminazione forma un'esperienza comune di esseri che convivono in condizioni di vita estreme, spostati e reinsediati dal loro ambiente naturale nell'incertezza di un paesaggio alieno. La performatività nel lavoro di Marković definisce il tentativo di esistere in luoghi diversi allo stesso tempo, in mondi paralleli che si fondono nello spazio delle relazioni socio-politiche, delle vaghe intimità e delle insincerità nascoste e invisibili. Nella mescolanza di questi mondi, le trasformazioni psicofisiche tra pensieri, ricordi, corpi, realtà e immaginazione cambiano la percezione e l'esperienza di ciò che l'identità è o può diventare.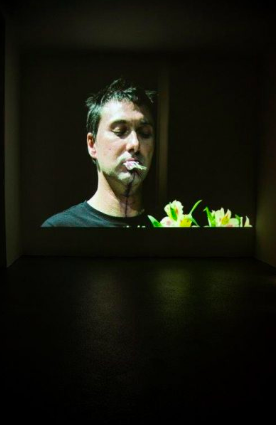 EVA MARIA SCHARTMÜLLER
title: plasticity
year of creation: 2014 / 2018
20m plastic film_installed on a coast line / isle brac, croatia
the installation addresses the incessant contamination of natural systems of order by artificial materials and their inherent properties.
a thin plastic film which partially covered the surface of the sea became the field of action.
"every little piece of plastic manufactured in the past 50 years that made it into the ocean is still out there somewhere."
l'installazione affronta l'incessante contaminazione dei sistemi di ordine naturale da parte dei materiali artificiali e delle loro proprietà intrinseche. una sottile pellicola di plastica che ricopriva parzialmente la superficie del mare è diventata il campo d'azione.
"Ogni piccolo pezzo di plastica prodotto negli ultimi 50 anni e finito nell'oceano è ancora là fuori da qualche parte".
tony andrady, chemist at the american research triangle institute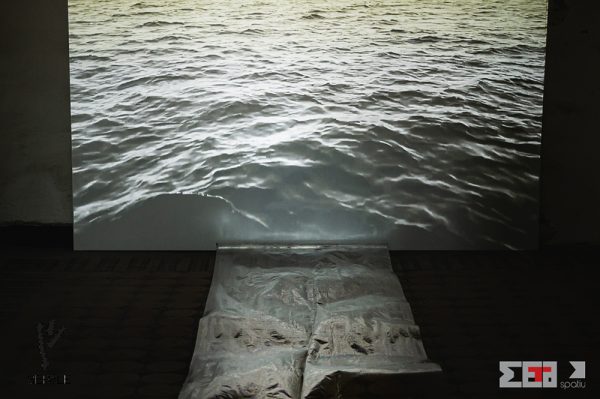 BOJANA FUžINATO / STAMENKOVć
"Private and/or Public" Soft sculpture 2022
Can we be aware of the line between private and public activity in our lives? Is that harder if the subject is the one who creates? Weaving in her room, did my grandmother ever think that by creating that piece of fabric on the loom, her life would go from a private to a public one (inaccessible to her at the time)? By transposing a piece of textile that I weave by hand into an object titled installation in space, I break through the thin line between the private and the public. I make the soft structure of the fabric stop, freezing it, making it hard as stone, so that the outside view can feel how it slides under my fingers, rounded and tender. The production of material on the loom is a very intimate physical moment in which energy moves harmoniously through our body and by repeating the same procedures produces a rhythmic sound with which thoughts relax. The procedure can be viewed as meditative, cathartic, but very private and intimate. Observed throughout history, weaving has been the product of those who spend most of their time at home, who take care of the family and mostly women's work. For a long time, it had the characteristic of decorative art, the one that is less valuable compared to the art produced by the big names in art history, done mostly by the male gender. As a craft or decorative art, weaving remained in the intimate zone. With its softness, colors, seductive charm, we read it as a woman's energy. When I shape such energy and publicly present it into an object, it becomes a political act.
Possiamo essere consapevoli del confine tra attività privata e pubblica nella nostra vita? È più difficile se il soggetto è colui che crea? Tessendo nella sua stanza, mia nonna ha mai pensato che, creando quel pezzo di tessuto sul telaio, la sua vita sarebbe passata da privata a pubblica (inaccessibile per lei in quel momento)? Trasponendo un pezzo di tessuto che tesso a mano in un'installazione intitolata a un oggetto nello spazio, rompo la linea sottile tra il privato e il pubblico. Faccio fermare la struttura morbida del tessuto, congelandolo, rendendolo duro come la pietra, in modo che lo sguardo esterno possa sentire come scivola sotto le mie dita, arrotondato e tenero. La produzione di materiale sul telaio è un momento fisico molto intimo in cui l'energia si muove armoniosamente attraverso il nostro corpo e, ripetendo le stesse procedure, produce un suono ritmico con cui i pensieri si rilassano. Il procedimento può essere visto come meditativo, catartico, ma molto privato e intimo. Osservata nel corso della storia, la tessitura è stata il prodotto di coloro che trascorrono la maggior parte del tempo in casa, che si prendono cura della famiglia e che sono per lo più donne. Per molto tempo ha avuto la caratteristica di arte decorativa, quella che ha meno valore rispetto all'arte prodotta dai grandi nomi della storia dell'arte, realizzata per lo più dal genere maschile. Come artigianato o arte decorativa, la tessitura è rimasta nella zona intima. Con la sua morbidezza, i suoi colori, il suo fascino seduttivo, la leggiamo come un'energia femminile. Quando do forma a questa energia e la presento pubblicamente in un oggetto, diventa un atto politico.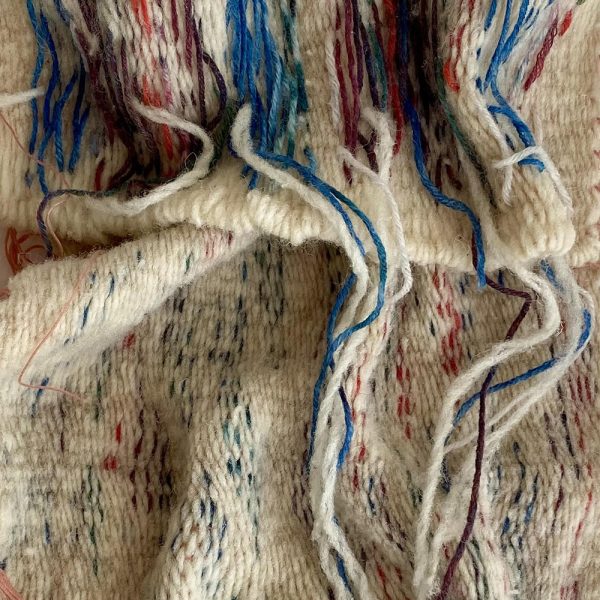 ---